President Muhammadu Buhari and his ruling party, especially his Minister of Information, Alhaji Lai Mohammed should watch the BBC documentary; Inside Obama's White House, a four-part behind-the-scenes series on BBC2 that debuted last week.
ABOVE PHOTO: Obama inside the White House with his Chief of Staff in the BBC documentary
It is a must watch for a new president. This four-part series, made by Brook Lapping for BBC Two, is an authoritative account of Obama's successes and failures as told by his inner circle, including: David Axelrod, Rahm Emanuel, Eric Holder, John Kerry, Robert Gates, Tim Geithner and Larry Summers – and his chief adversaries.
It is a story of how Obama tried to reshape America, from inside a White House unlike any other in history.
"Annoying, isn't it, when you move into a new house and it's really exciting and everything, and then you start to find the problems? You knew the roof was leaking…So many problems that all need fixing but the bank's not giving you any more money, and the neighbours on one side won't cooperate because they don't like you – they like the previous owner, the one who left the bad smell", wrote an analyst.
We're not talking actual leaky roof, though, we're talking the worst economic crisis since the Depression. Plus rocketing unemployment, negative equity and home repossession on a terrifying scale, bailing out the auto industry and literally bailing out North Dakota (which has gone under in a biblical flood). Because this isn't any old house – it's Inside Obama's White House (BBC2). And, suddenly, after all that hope and yes-we-can, things look a bit hopeless.
Nigeria's President Muhammadu Buhari's is quick to remind everyone that his administration was dealt the worst of all possible hands: the price of oil, on which Nigeria is woefully dependent, has plummeted; the previous administration spent more effort on siphoning off money during the good years than in preparing Nigeria for the rainy days that are now upon it; that has left it short of firepower in terms of reserves and budgetary flexibility.
True, Mr Buhari has also inherited a collapsed oil price of $40pb. Under his watch the naira is trading at roughly 320 to the dollar versus an official exchange rate of 197.
However, former president, Olusegun Obasanjo has told us that Buhari is lucky. "When I assumed office in 1999, I inherited $3.7 billion in reserve, while Buhari met $30 billion, almost 10 times of what I met then, and the price of oil then was $9. When it got to $20, I was dancing", Obasanjo said this week.
This BBC documentary gives a graphic detail of the rot Obama inherited and how he set about tackling them, the challenges he faced, his failures and successes. 
The part one I watched detailed Obama's first 100 days in office. Unlike Buhari's, Obama's first year in office was not An Age of Excuses, Lamentations, Denials, And Inconclusiveness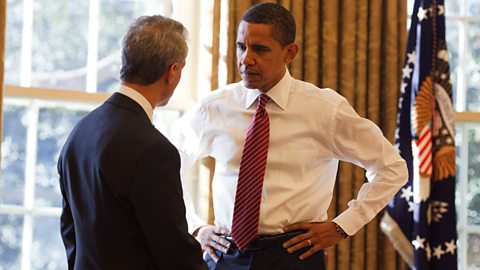 Inside Obama's White House rattled along like a thriller as the documentary unraveled the various threads that meant Obama could not deliver all he had promised on the campaign trail in his first 100 days as President.
However, it's easy to forget that as President-elect, Obama had to deal with the biggest economic crisis since the Great Depression. It hit so hard even the Republicans wanted to nationalise the banks. But throughout the documentary, Obama stood out like a towering hero. 
7 years after, Obama has succeeded; the state of the US economy, the incumbent president's job approval are working in Obama' favor.
Economic trends continue to be largely positive, with 3.3 million jobs created in the past 12 months. In the past two years, we've seen the most job growth in the country since 1999. Unemployment has dropped to less than 5 percent—a rate that most economists would say indicates full employment. The demand for more labor has finally begun to increase incomes for American workers. While it's not exactly Morning in America, it's undeniable progress and helps make the case for keeping a Democrat in the White House.
Obama's support is also strong. According to the most recent Gallup poll, Obama now has a 50 percent job approval rating—his highest in two years. The average approval rating for presidents at this point in their final year in office is 47 percent. Obama's relative popularity is also good news for Democrats.
President Buhari is lucky – "When I assumed office in 1999, I inherited $3.7 billion in reserve, while Buhari met $30 billion, almost 10 times of what I met then, and the price of oil then was $9. When it got to $20, I was dancing." – former president, Olusegun Obasanjo
Inside Obama's White House looked like a case of life imitating art. Here was President Obama offering Republicans bargaining chips, threatening staff in the Roosevelt Room to thrash out a deal– and even using a photocall at the annual White House picnic as an opportunity to pounce on Congressmen to support his energy bill.
or millions of people, the election of the first African American President, Barack Obama marked a new era of hope. The energetic young President was eager to end the war in Iraq, close Guantanamo, fight climate change, and provide healthcare for all.
What happened instead was the worst economic collapse in living memory, minimal cooperation from the Republican opposition, and the rise of a populist anti-big-government Tea Party.
Like Buhari, when elected, Obama promised to change America. However, he discovered that change would be harder then he predicted and his plans were knocked off course by the worst financial downturn since the Great Depression.
To solve this national crisis and pass his rescue plan, Obama needed to bring together the two parties in Congress. The programme shows how, overcoming constant criticism and blocking from his Republican opponents, Obama passed an $800 billion stimulus package – the largest in US history.
This episode also tells the story about how Obama crashed a private meeting of fellow heads of government to persuade the Chinese to tackle climate change at the Copenhagen summit. It also focuses of his struggle to shut down Guantanamo, as told by his ally Attorney General Eric Holder, and Republican Congressman Frank Wolf.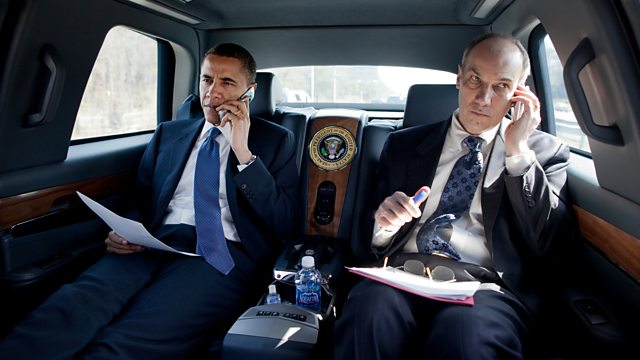 This first of four episodes also looks at Barack Obama's first 100 days – the official length of a honeymoon in medialand. Mostly it's one big Holy Shit moment. Barack wants to pass a massive fiscal stimulus; he's straining and pushing, but he's having real problems getting it through. Plenty of political laxative required – deals and compromises and delicate negotiations.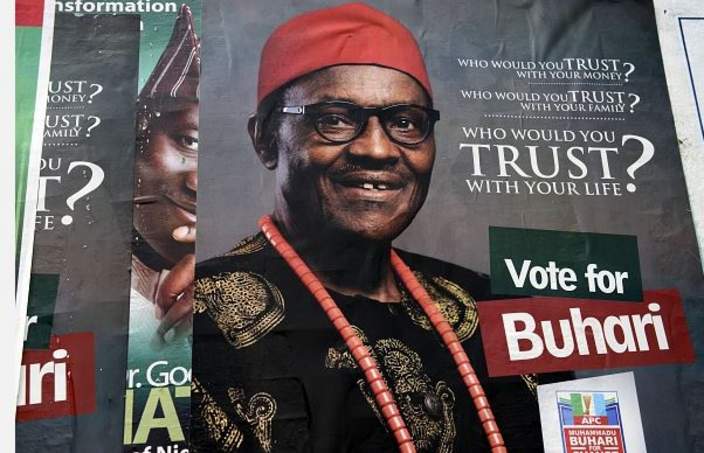 Buhari's top 13 promise while campaigning:
1. Reduce Fuel price to N45.00 per litre
2 N5000 per month for every unemployed
3. 3,000,000 jobs per annum 
4. Free meal for all elementary/primary/almajiri schools
5. 1 year allowance for Youth Corpers post NYSC
6. Free and qualitative education up to SSS3
7. 2 million houses yearly for next 4 years
8. 48,000 megawatts of electricity generation 
9. Zero tolerance for corruption
10. Ban medical tourism by our politicians from May 29, 2015.
11. Annihilate Boko Haram though GEJ is ready to exterminate them now. 
12. Equate $ to =N= 
13. Stabilise oil price
So today, While incidental economic factors have largely contributed to Nigeria's floundering economy, the country's government has also come in for criticism for not managing the crisis effectively. President Buhari's handling of the economy has been questioned.
PMB has lamented about his old age (but he had assured it was not an issue), empty treasury (he should have known that when offering his 1460 promises (one per day for 4 years), lack of saints to form his cabinet, a rotten system from the GEJ years and just recently, he blamed God for making him a president in this day and age. He has blamed GEJ for everything (including his travelmania and global demarketing campaigns). He has also blamed the budget mafia, the judiciary, rule of law and due process, GEJ appointees, and saboteurs, as the reason for his non-performance. Along the line, he has become the foreign minister and junketer-in-chief, (spending about $1m per trip; according to his good friend, Fayose), finance minister, Chief Justice, CBN governor and the head of EFCC.  He is not a Christian but surely, he reads the book of Lamentations. I hope this Chinese proverb, he who blames others still have a long way to go; he who blames himself is halfway there; he who blames nobody has arrived .and this quotation I also want Benjamin Franklin to remind him that he that is good for making excuses is seldom good for anything else (Benjamin Franklin) make sense for him – Ik Muo, PhD. Department of Business Administration, OOU, Ago-Iwoye
Buhari and APC appears presently unable do anything well for Nigeria: They cannot conduct a bye-election in just Rivers and Bayelsa State. They cannot prepare a budget. They cannot provide fuel at normal price. They cannot provide electricity. They cannot stabilise the economy. They cannot stabilise the Dollar. They cannot respect the rule of law. They cannot fix our federal roads. What can Buhari and APC do well apart from blaming everyone else but themselves?
Buhari should come to grips, he should learn from Obama, on how to implement and deliver Changi!
+447460770987