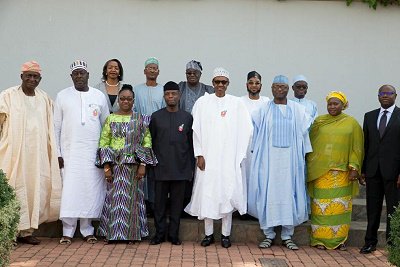 President Muhammadu Buhari on Wednesday swore in six Commissioners of the Independent National Electoral Commission (INEC).
 President Buhari, during the occasion, expressed concern over the integrity of the nation's electoral processes.
The six INEC commissioners sworn in by the president are:
1. Okechukwu Obinna Ibeanu (Anambra), 
2. May I. Agbamuche-Mbu (Delta) 
3. Retired AVM Ahmed Mu'Azu from Gombe state
4. Mohammed Kudu Haruna (Niger), 
5. Mr Adekunle Ogunmola (Oyo) and,
6. Abubakar Nahuche from Zamfara.
The president, while commissioning the commissioners, tasked them on firmness and fairness in the discharge of their duties.
Speaking, he urged them to help consolidate the integrity of the electoral body, saying: "This administration is extremely concerned with the integrity of the electoral processes. 
"You are people of great integrity, renowned throughout the country. This administration will depend on you to be firm and fair.
"What this administration expects after we have gone, Nigerians will read the political history and know that we served Nigeria.
"Woo Nigerians to use Permanent Voters Card (PVC), cross-checked by card reader, that they have been given the opportunity.
"The security in their respective constituencies to elect those they want to elect, the rest is left to their conscience and to God.'' he said.
The president, who frowned at the way bye-elections were conducted in some states of the federation, said government would continue to ensure violent-free elections in the country.
He congratulated the commissioners for their new appointments.
Responding on behalf of the commissioners, Mr Okechukwu Ibeanu pledged that they would discharge their duties diligently.
He also thanked the president and Nigerians for giving them the opportunity to serve the nation.
"On behalf of my five colleagues, I thank the President and Nigerians for giving us this special and challenging opportunity to serve this country.
"We pledge to discharge our duties, responsibilities and functions as contained in the oath of allegiance and oath of office which we have just sworn to.
"We seek the support and prayers of the government and people of Nigeria so that we can discharge our functions to the best of our abilities and contribute to improve the advances and achievements that have been recorded in our electoral processes so far.
Details shortly…