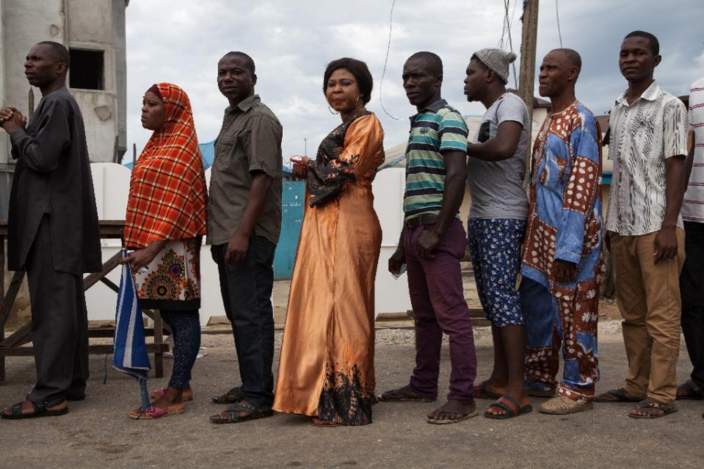 Nigeria's Independent National Electoral Commission (Inec) says some of its staff were kidnapped by gunmen during Saturday's re-run election in southern Rivers state.
ABOVE PHOTO: The initial election last year was marred by violence and irregularities
INEC has suspended the announcement of a re-run election it conducted on Saturday in the volatile southern oil-rich Rivers state, because of violence.
A statement from Inec says the election has been suspended in most areas because of violence:
There were reports of numerous attacks resulting in fatalities, kidnappings, ballot snatching, diversion of officials and materials, amongst others, which necessitated its suspension in eight local government areas.
Several permanent and ad hoc staff have been attacked, again resulting in fatalities, while some have been forcibly abducted and taken to presently unknown destinations.
The statement quoted Inec's Director of Voter Education and Publicity Oluwole Osaze- Uzzi sa saying:
Having reviewed the situation, the commission is compelled to suspend all further action concerning the exercise in all the other constituencies in the state pending the receipt of a comprehensive report from its field officials and monitors.
The re-run for seats in the state assembly and the national assembly in Abuja became necessary after court rulings on challenges to the initial results of last year elections.    
Police say at least four people have been killed during clashes as the voting took place.
"Only one result out of 12 federal MPs seats and nine state assembly seats out of 22 have been announced," the commission spokesman Nick Dazeng told me.
Rivers state has long been a flashpoint for political violence with the two leading parties – the Peoples Democratic Party (PDP) and All Progressives Congress (APC) blaming each other. 
An unknown number of people were killed in the run-up to Saturday's election.