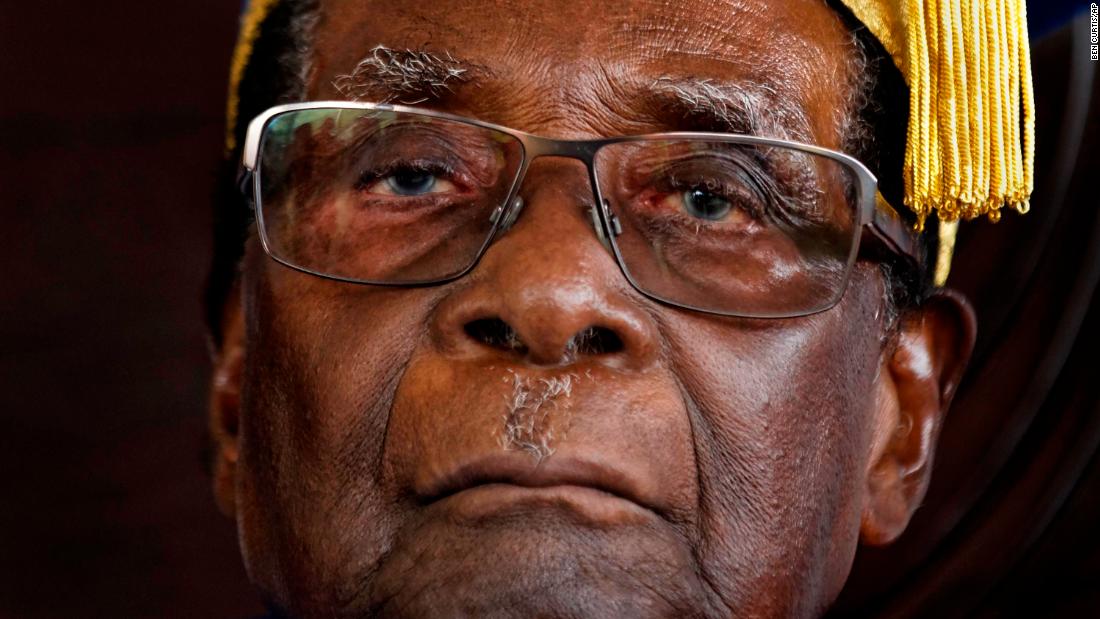 Robert Mugabe has resigned after 37 years in power as Zimbabwe's leader.
The Zimbabwe's President has resigned, parliament speaker Jacob Mudenda has said.
A letter from Mr Mugabe said that the decision was voluntary and that he had made it to allow a smooth transfer of power, the Reuters news agency reports.
The surprise announcement halted an impeachment hearing that had begun against him.
Lawmakers roared in jubilation and people have begun celebrating in the streets.
Mr Mugabe had previously refused to resign despite last week's military takeover and days of protests.
He has been in power since independence in 1980.
What triggered the moves to oust him was his dismissal of Emmerson Mnangagwa as vice-president two weeks ago.
That decision was seen by many as clearing the way for Mr Mugabe's wife, Grace, to succeed her husband as leader. It riled the military leadership, who stepped in and put Mr Mugabe under house arrest.
Mugabe resigned 48 hours after he said he would be around till next year to chair the convention of ZANU-PF.
Mugabe's hold on the country since 1980 had been whittled down since last week after the rebellion by the armed forces.
The Army had seized control of the country but denied that their intervention was a military coup.
But since then, the military control had unraveled in slow motion, with Mugabe even being allowed to make a broadcast on Sunday, in which he surprisingly refused to resign.
Earlier in the day, Zimbabwe's parliament had begun formal proceedings to impeach Mugabe.
The Speaker had announced to the house that a motion to remove the President from office has been brought forward by the war veterans leader, Chris Mutsvangwa and seconded by an opposition politician.
The full motion was expected to accuse Mr Mugabe of allowing his wife to "usurp" his position, and of being too old to effectively carry out his duties.
As politicians arrived at parliament on Tuesday afternoon to begin the impeachment proceedings, thousands of Zimbabweans attended a rally in the capital Harare in support of the motion and the actions of the military in placing Mr Mugabe under house arrest.
"We are here because we want to be part of this very important occasion in the history of this country," said Harare resident Samuel Wadzai. 
Haven been boxed to the corner as Parliament began proceedings to impeach him, the 93-year-old leader, who was placed under house arrest, resigned.
Crowds in the streets of Harare broke out in rapturous celebrations, dancing and cheering in joy, some raising their fists and waving Zimbabwean flags.
As Mugabe's letter was read out in Parliament, lawmakers broke out in thunderous applause and cheers.
Mugabe's resignation marks the end of an era in Zimbabwe. He ruled the country with an iron fist for almost four decades and is the only leader the nation has known since it achieved independence from Britain in 1980.
Protesters in front of the parliament building in downtown Harare called for the impeachment of Mugabe while demonstrating.
Mugabe's political demise is the consequence of a struggle over who would succeed him in the ZANU-PF, a party split between those loyal to the former vice president, Emmerson Mnangagwa, and supporters of Mugabe's wife, Grace Mugabe.
It was a humiliating departure for Mugabe, who clung onto power for a week but eventually buckled to pressure.
— 
Would you like to be receiving ALL Elombah.com news links 'On The Go' on WhatsApp Or Telegram?  If yes, please provide us your Telephone number via publisher@elombah.com or sms/inbox +2349050382526 and you are ready to go!
© Copyright 2017 www.elombah.com; unless otherwise indicated, all images are courtesy of Twitter; send eyewitness accounts/reports/articles to publisher@elombah.com; follow us on twitter @Elombah; like our Facebook page: Elombah.com; join us on WhatsApp HERE
For adverts & inquiries, call +447460770987, +2349050382526