Nigeria Senate Thursday passed a motion condemning Gruesome killing of 40 people by armed bandits in Sokoto State on Monday and ordering the Inspector General of Police to set up a special task for the three states of Sokoto, Zamfara and Kebbi to tackle the vexed issue of armed bandits menace.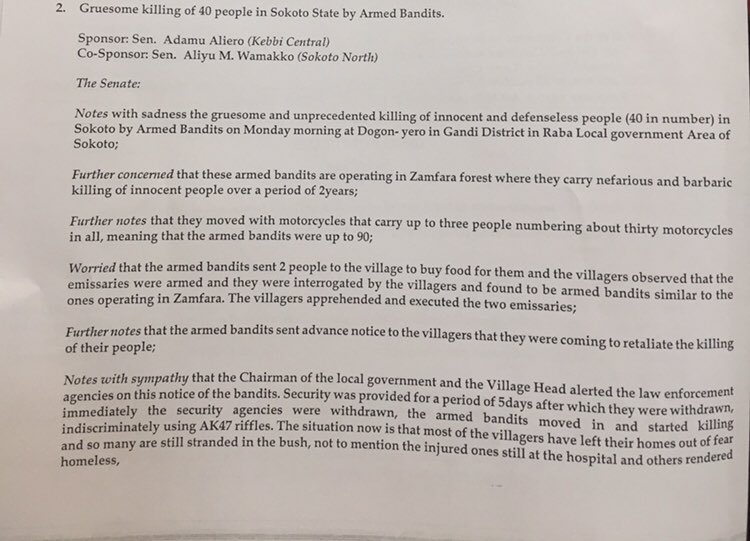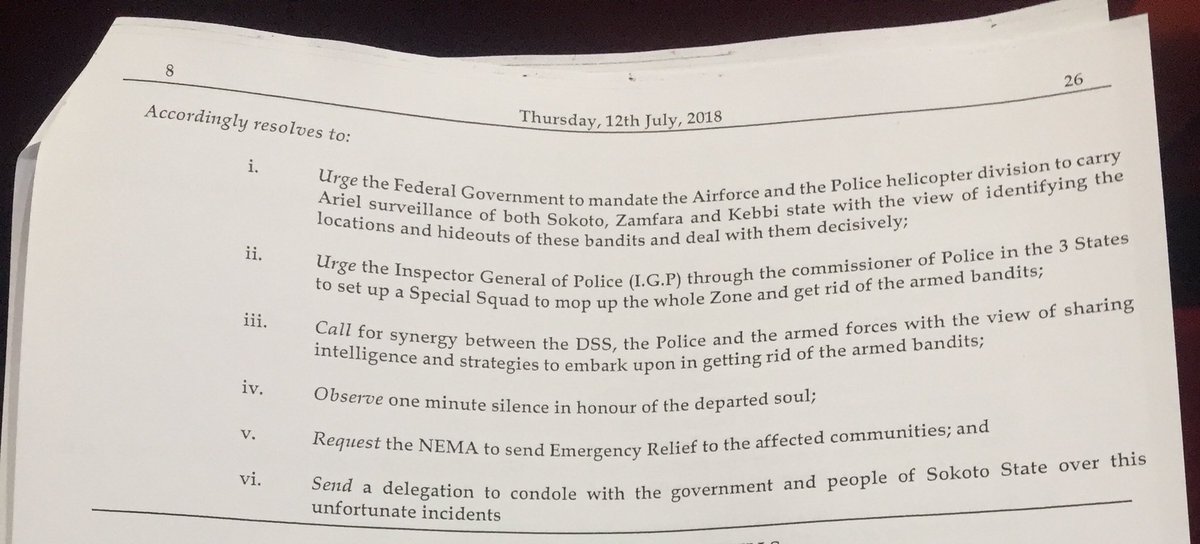 Gruesome killing of 40 people by armed bandits in Sokoto State on Monday attracted the attention of the Senate Thursday, 12 July 2018.
Moving the motion, Senator Adamu Aliero (Kebbi-Central) stated about 90 bandits riding on motorcycle carrying AK47 attacked the villages on Monday, 09 July 2018.
He said villagers earlier arrested 2 emissaries that came to pre-survey the area, interrogated them and found they were same bandits that operate in Zamfara state.
'The two emissaries were killed and thereafter the bandits numbering up to 90 invaded the village shooting indiscriminately.'
Senator Aliero said the armed bandits are still operating in the area as villages abandoned their homes and ran into the bush.
Senator Ibrahim Danbaba Sokoto, contributing said more than 100 lives might have been lost in the attack.
Till date no law enforcement personnel has been drafted to maintain security in the area.
On his own part, Senator Marafa said 65 percent of Zamfara state is under the control of armed bandits.
"The bandits abduct young girls and take them into the bush.
"Just imagine if these girls were your sisters or daughters?
"These things happen every day and only reported when they happen on a large scale.
"We should not bring politics into this matter.
"The government punishes people that bring these happenings to the front burner.
"Are these also Fulani herdsmen"?
He called for Nigerians to rise in unison to condemn and find solution to the attack.
The News Agency of Nigeria Tuesday reported that armed bandits attacked villages around Gandi in Rabah Local Government of Sokoto State, killing an unspecified number of people.
Also some villages in the area were razed by the attackers and residents displaced.
Cordelia Nwewe, Police Public Relations Officer, Sokoto Police Command, said that the Commissioner of Police, Muritala Mani and the medical personnel from the state had moved to Rabah Local government area to assess the situation and ascertain how many people were affected.
NAN also reported that on June 12, the command confirmed that eight died in a clash that ensued between armed bandits and local vigilante members in Isa Local Government Area of Sokoto State.
Nwawe told newsmen that at least eight persons were feared dead during the fracas, including an elderly person who the bandits went to kidnap.
Nwawe said investigation was still ongoing.