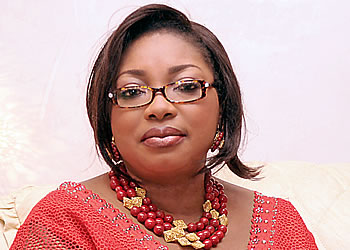 Former Senate Committee Chairman on Environment and Ecology, Senator Grace Bent [pictured above] has dismissed the petition against President Muhammadu Buhari's nominee from Kaduna State, Mrs Amina Muhammed, urging the Senate to disregard it and then endorse her for appointment as a Minister during screening on Tuesday.
Senator Bent, in a statement on Sunday, described the issue of non-indigeneship of Kaduna raised by opponents and critics of Mrs Muhammed as unholy, impious and debasing for women in Nigeria whose contributions to national growth and development, she stressed, have been unequalled.
She said, "Nigerians should stop this absurdity of humiliating and debasing their women with the slightest opportunity. It is an aberration as well as barbaric for anyone to begin to discriminate and fight a woman on the basis of marital affiliation. I feel our Senators should not entertain that"
Bent identified those behind the plot to deny the Kaduna state's nominee of ministerial appointment as high-handed, mischievous and ignorant political elites who she said, have nothing to offer and hence, do not wish Nigeria well.
The Senator said Nigerians should at all times be ready to tap from the intellectual property which, according to her, Mrs Muhammed is imbued with and should jettison cheap blackmail and sentiment so far raised to deprived the nominee of her constitutional right as a Nigerian.
She said the constitution of Nigeria accords every right to any Nigerian woman to serve the country in any capacity notwithstanding her marital affiliation or state of origin, quoting section 42 (2) to buttress her argument.
She said, "I ran through the constitution and discover that it rather supports inter-ethnic marriage, whereas section 42 (2) states specifically that no 'citizen of Nigeria shall be subjected to any disability or deprivation merely by reason of the circumstances of his or her birth"
"What the ill-informed opponents of Mrs Amina Muhammed were trying to do is to deprive this hard working, intelligent and committed woman of an opportunity to extend her service to Nigeria.
"I reckoned that as a former Presidential Adviser on Millennium Development Goals (MDGs) she was excellent in dedicated service, making great impacts, which were reckoned with internationally. Nigeria should continue to tap from her intellectual property rather than willfully deciding to dump her like a used pack.
"I served in the Senate and represented Adamawa State by marital affiliation. I had lived in Adamawa and had claimed no other place as my home. The people recognized my worth and supported me to be a Senator.
"Today, I can confidently say that Adamawa, my state now knows the difference because I served the state trustfully, genuinely and dedicatedly. The impacts of my service to the state are still visible for anyone who cares to take note.
"Let me appeal to our dear Senators not to be brow-beaten by the cheap sentiments being canvassed against Mrs Amina Muhammed on the basis of Inter-ethnic marriage to Kaduna. The Senate should accord her the right to serve because in the process, Kaduna state and Nigeria will be the ultimate beneficiaries.
Senator Bent noted that the Senate and other political institutions in Nigeria should rather be using the case of a woman like Amina Muhammed to promote inter-ethnic marriage as the basis for further advancing the cause of national unity. In that regard, inter-ethnic marriage should be seen as a blessing more than anything else, she added.
Bent who had authored a book on inter-ethnic marriage said every woman, by virtue of nature enjoys dual citizenship with utmost loyalty to the place they are married to, alluding to statistics, which she noted revealed that 60 percent of Nigerian women are in cross-cultural marriages.
She said, "I trust that we have men of great intellect and wisdom in the Senate. And I believe strongly that they will look beyond the parochial view of Mrs Muhammed's opponents and pass this woman for reason of her competence, tested intellect and preparedness to serve.
—
© Copyright 2015 www.elombah.com
Send eyewitness accounts/reports/articles to publisher@elombah.com
Follow us on twitter handle @Elombah; Like our Facebook page: "Elombah.com"