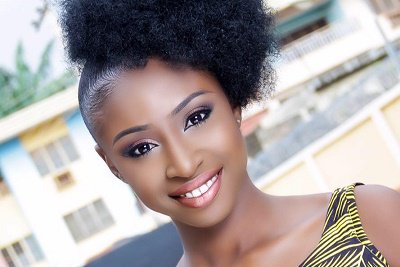 The embattled Miss Anambra – Chidinma Okeke – has yet again raised serious alarm that her blackmailers and traducers are after her life and bent on eliminating her to keep the truth behind the sex video scandal sealed.
Recall that Miss Chidinma Okeke was billed to address a world press conference at the NUJ press center, Awka, over the sex saga on Wednesday.
Well, the world press conference was not to be as she was seriously threatened to be shot right at the press conference if she ever dare to reveal the real truth about the ugly episode.
Taking to her Facebook wall, the dethroned Miss Anambra wrote:
"Goodmorning all, this is Chidinma Okeke – Miss Anambra 2015. 
"Considering the need to make the world know the truth about the trending scandal and what we have been going through before, then and now, I decided to address a world press conference at the NUJ press center Awka today.
"But from the moment I made public this intention I have been under siege of threats by my blackmailers and traducers. 
"They are seriously threatening to shoot me at the press conference if I ever open my mouth to say real truth about the ugly episode.
"Since I have no protection and if I die now the truth will be buried forever it's my intention to sacrifice myself to save not just myself but other girls and other upcoming pageant by letting the world know the truth and what we go through.
"They have continued to assemble all manner of expertise and professionals to edit the video and send them in badges.
"My life is under serious threat if they succeed in killing me today the world already know my traducers the truth is unearthed.
Meanwhile, more information has been leaked in the sex scandal / cucumber saga.
A commentator, Sam Odachi suggested that the unsuspecting beauty pageants were actually drugged with Rohypnol.
He attributed the following alleged confessional statement to Chidinma, wherein she furnished a horrifying description of how Rohypnol is administered and its devastating effects on the victim.
He wrote:
"Rohypnol:
Given to you in a meeting of beauty queens held for an incoming beauty pageantry. 
Under its influence…
You are made to perform a lesbian or straight sexual act. 
When you are normal again… 
The video is shown to you and you are asked to follow instructions from thenceforth or else they will leak the video. 
You become a slave.  No one knows about this, except the circle of very influential ladies and men. 
You are called at any time, even from your studies if you are in school. You are called at any time to satisfy anybody…
You are given some percentage of the proceeds you are making for the circle. 
And you may be crowned a beauty queen in a carefully orchestrated pageantry, if you do well in "satisfying" people. 
If you are in any trouble involving police or anyone for that matter, the influential circle takes care of the problem expertly. 
Then, you are made rich. You become very rich and get used to the sexual orgies. 
You become a senior member of the circle and you recruit other beautiful girls. The day you quarrel with the circle, your sex tapes will go out to the public. 
This is part of a dangerous information someone told me just now. I am still shaking. I know it is even dangerous posting it here. 
But how can we end the scourge if we don't open the cloaca of the hen? Is this what is going on in our society? The rot is really bad. 
I won't give up. I won't give up."
© Copyright 2016 www.elombah.com; Send eyewitness accounts/reports/articles to publisher@elombah.com; follow us on twitter handle @Elombah; like our Facebook page: "Elombah.com"
Share your thoughts in the comment box below: