Read HASSAN INDABAWA's reply to SARDAUNAN KANO IBRAHIM SHEKARAU on his presidential aspiration 2019:-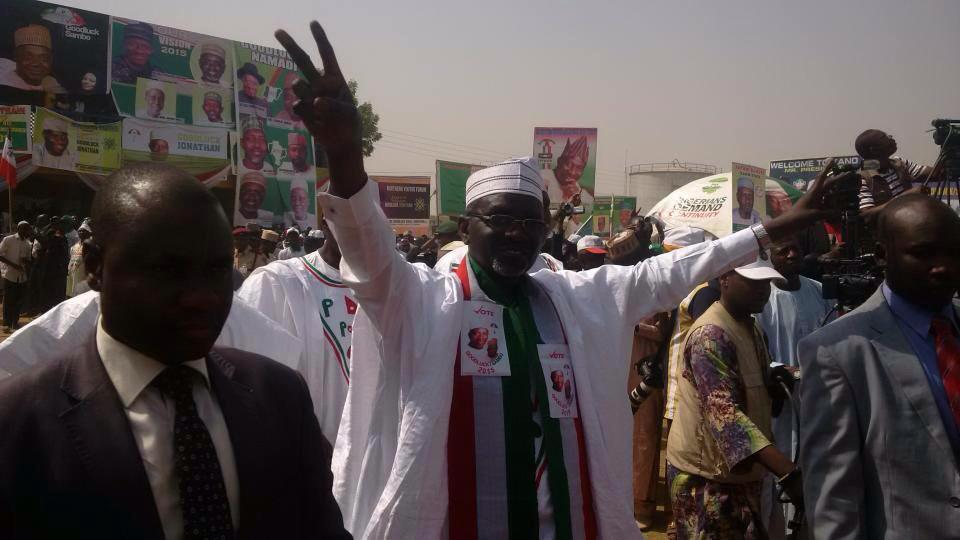 His Excellency,  
Malam Ibrahim Shekarau Sardaunan Kano 
No 8, Mundubawa Avenue, Kano  
RE: NOTIFICATION OF INTENTION TO CONTEST THE PRESIDENCY IN THE 2019 GENERAL ELECTIONS  
This is to acknowledge the receipt of your letter dated August 22, 2017 in which you intimated me, among others, on your intention to once again contest the Presidency of the Federal Republic of Nigeria in the forthcoming 2019 general elections. In so doing, you highlighted some reasons, especially the several calls you claimed to have been made by some individuals and groups from many quarters, nationwide, urging you to contest for the Presidency. 
Similarly, you claimed to have made some wide consultations across "all the geo-political zones" by which you became convinced and thus accepted the "clarion calls" to embark on the contest to vie for the nation's highest office come 2019. You concluded your letter by soliciting for my "advice/guidance" while recognizing my efforts to bring about the "desired socio-economic change amongst our people".   
I am certain that your motive to write me stemmed from the fact that, you believed I have something positive to offer, while you quite knew that as your former aide, and having had an opportunity to work and closely relate with you, I must have an uncommon grasp of both your private and public personality. It is this belief, and the fact that as you always say, whatever one does, there is a day that one will stand somewhere and account for all that one has done that, I intend to offer you a sincere and honest advice. Though you may find some of my observations uncomplimentary and may even sound acerbic, but I would rather sound brutally frank than resort to sycophancy. 
The reason you proffered that your "successes" as the Kano State Governor (2003 – 2011) may be the justification why some people clamored for you to vie for the Presidency, is in all sincerity, too simplistic, self-serving and subjective. While it is true that some successes had been recorded at some Ministries, Departments and Agencies (MDAs), one would note however that heads and chief executives of those MDAs were more the reason behind the success story than any personal drive of you as the governor.  The outstanding performances of Ministry of Water Resources, Ministry of Justice, Health Services Management Board (HSMB) and KNARDA are all illustrative.
Tamburawa Water works still remains the most impressive edifice of your administration, mainly due to the honesty, personal commitment and incorruptible nature of Malam Salihu Sagir Takai.  On the other hand, Ministry of Education, Kano State Pilgrims Welfare Board (KSPWB) and State Basic Education Board (SUBEB) still evoke an embarrassing stinking stench of wastages and ineptitude. The earlier successes recorded by SUBEB, in particular, was later retarded through neglect and ineptitude after you appointed a woman politician to head the agency during the tail-end of your administration. She ended up spending most of her days attending to her face by doing a make-up rather than facing the challenges of her office thus allowing the sector to rot.
To fully understand this theory is to compare the role played by Ngozi Okonja Eweala, as a finance minister, during Olusegun Obasanjo era and her later sojourn in President Goodluck Jonathan administration. While her performance during Obasanjo was remarkably impressive due to the personal drive, charisma and passion of the President, she was however a shadow of her former self while serving under President Jonathan. To assert, therefore, that people are calling you to vie for the presidency out of their conviction of "contentment and satisfaction" based upon the so-called successes recorded by you as the Governor of Kano State, is not only misleading but self-serving.
Still on your performance as the Governor of Kano State, those of us who have had the opportunity to study you at close quarters, still found it shocking while recalling how you spent hundreds of millions of public funds financing your private annual religious tourism. It is very sad and horrendous display of profligacy on your part, occupying a $10,000 per night suite during your stay at Makkah Hilton every year of your administration. Nigeria do not deserve a self-indulgent and wasteful leader. 
Another horrifying and embarrassing misappropriation of resources by you, while you were the State Chief Executive, was how you spent over N3bn over the years to purchase SUVs and other luxury cars as gifts to friends and cronies. No any sensible, responsible and conscientious leader would ever consider such a wasteful dissipation of public funds. Another puzzling aspect of your political misadventure is your inexplicable desire to contest an election against President Muhammadu Buhari. The woeful attempt in 2011 is still fresh in our minds.
While General Muhammadu Buhari scored 12,214,853 votes under the platform of CPC, you barely garnered 917,012 votes for ANPP. Even in Kano State, where you held sway for eight uninterrupted years, you were able to score 526,310 votes against Muhammadu Buhari's 1,624,543 votes. In short, in your home state of Kano, you were only able to record 19% of the votes casted against GMB's 59%! In fact, looking at your political trajectory would reveal an obvious political climb-down. Your stature, personal honor and political relevance are nose-diving in a dizzying speed. Only you and your persona, fails to realize this. Forget about what the third-rate politicians and the charlatans surrounding you would say to you. You should know better if you can allow the better part of you to judge.
Another amazing display of naivety is your apparent exhibition of confidence that your Party, the People's Democratic Party, the PDP, would nominate you to contest the election as its candidate. What made you believe that the Party and its Leadership would so soon forget the ignoble role played by some of its members, including you, in its defeat during 2015 General Elections? It is very hard to believe that former President Goodluck Ebele Jonathan, as the Leader of the Party, would forget how you failed to deliver after collecting humungous amount of money and yet the Party suffered an unprecedented electoral defeat in Kano State.
The scandalous sharing of N950m in your residence, on the eve of 2015 election is still much afresh in people's mind that a political song, capable of attaining Magnum Opus was rendered in memory of your invidious sanctimony. Equally unforgiving is how you personally collected another N750 million from Jonathan barely 48 hours to the presidential elections and yet, while PMB scored almost 2million votes in Kano, Goodluck Jonathan, in spite of your false hopes and empty promises, was able to score a paltry 215,779 votes!  
For you, now to announce your intention to contest the Presidential seat, former President Jonathan and the rest of PDP leadership would naturally assume that you deliberately undermined the party in the last elections, by stashing away the campaign funds, and now set to bring out the loot to promote your personal ambition. With all these unforgettable displays of deficit in personal honor and integrity, I wonder how PDP would even consider fielding you as its candidate. This is more instructive as any candidate the party should consider to nominate ahead of 2019, considering the incumbent, must have an unassailable personal integrity, good reputation, impeccable character, honesty and sincerity. Nigeria, at the moment, as we all know, is at a critical stage of its socio-economic cum political evolution.
The country therefore needs a purposeful leader who is selfless, honest, frugal, sincere and visionary. If we must be sincere to ourselves, we cannot afford to even contemplate the possibility of ending up with a misfortune of having a dishonest person, self-centered, insincere, deceitful, incompetent, profligate and sanctimonious — which unfortunately you all personify.
In conclusion, I will further advice you to shelve your plan of another misadventure, of which much resources, both material and otherwise will be wasted in futility. In its stead, it will do you more good to make use of your remaining earthly life by making amends with God by seeking His forgiveness for several anguishes you caused many out of your selfish pursuit to satisfy a personal self-indulgence! Please accept the assurances of my highest consideration.
Malam Hassan Sani Indabawa 
Former SA (Research and Documentation)