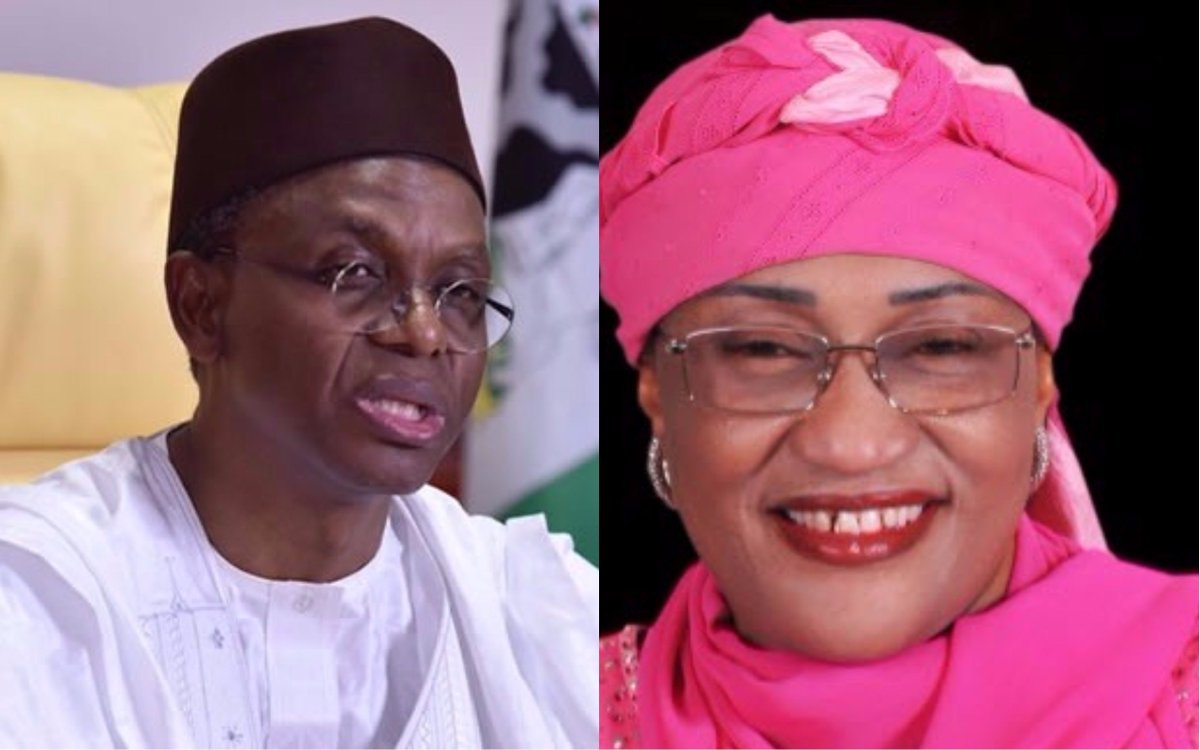 The altercation between the Minister of Women Affairs, Senator Aisha Jummai Alhassan and Kaduna State governor, Mallam Nasir El-Rufai inched a higher not over the weekend.
Recall that El-Rufai was quoted as saying that President Muhammadu Buhari was severely warned not to appoint Alhassan as Minister over issues of loyalty.
But Senator Alhassan has threatened to expose Governor El-Rufai over his role in the kidnapping of the Chibok girls. 
The minister said she was surprised that a dirty character like El-Rufai could have the guts to attack her because of her preference for Alhaji Atiku Abubakar in the 2019 Presidential race. 
"There are lot of things", says Alhassan, "Nigerians needs to know about the planning and execution of Chibok girl kidnapping because those behind it will be unmasked very soon. 
"The intention was very obvious, to defame and blackmail PDP and Jonathan out of power. 
"The Minister became angry by the comment credited to El-Rufai where he was quoted as saying that Buhari was severely warned not to appoint Alhassan as Minister. 
"Mallam El-Rufai said Alhassan recent video is an indication that she has never been loyal to President Buhari from day one, noting that her loyalty lies with someone who is not even ready to support the party to success just because the person also want to become a president
In her response, Aisha said those who know history well could tell about the treacherous nature of El-Rufai who can go to any length to stab anyone just to rise politically.
"She said El-Rufai was a nobody who was as poor as church rat if not for Atiku that brought him to political relevance. 
"The same El-Rufai was among those who plotted against Jonathan by tactically supporting Boko Haram and Kidnapping of Chibok girls, the information is out there where he lied that Jonathan wanted to kill him and other top members of APC by raising a false alarm about sniper list. 
"No sane Nigerians will take El-Rufai serious because he is an unrepentant addicted liar. 
"The same El-Rufai who claimed to be loyal to president is sponsoring some bloggers and his errand boys in the media to keep attacking and defaming Buhari.
"At least Nigerians and our party can see his deliberate action to blackmail the President when he released his memo to the media which was supposed to be a confidential memo to the President in his bid to tarnish and embarrass Baba Buhari. 
"I am not a coward; Buhari is my President and one of the fathers of my party APC.
"If I can't be real with my choice of Atiku, then it would amount to eye service, I am not that kind of person. 
"Former President Obasanjo through his book "My Watch" gave a valid description of who the midget El-Rufai is.
"He thrives on stabbing the hands that fed him just to rise politically, he can lie and kill so far he will rise in his political career not minding the pain he is inflicting on others.
"One of such is his supervision of mass killing and hurriedly burying of over 1,000 Shiites killed in Kaduna. 
"I will personally meet with President Buhari and explain myself to him.
"I am not afraid of anybody in the party, after all I am a politician.
"For those who have gone ahead to plant a corruption story about me in the media, you are just wasting your time she added," the story concluded.
—
Would you like to be receiving ALL Elombah.com news links 'On The Go' on WhatsApp?  If yes, please provide us your WhatsApp number via publisher@elombah.com or sms/inbox +2349050382526 and you are ready to go!
© Copyright 2017 www.elombah.com; unless otherwise indicated, all images are courtesy of Twitter; send eyewitness accounts/reports/articles to publisher@elombah.com; follow us on twitter @Elombah; like our Facebook page: Elombah.com; join us on WhatsApp HERE
For adverts & inquiries, call +447460770987, +2349050382526