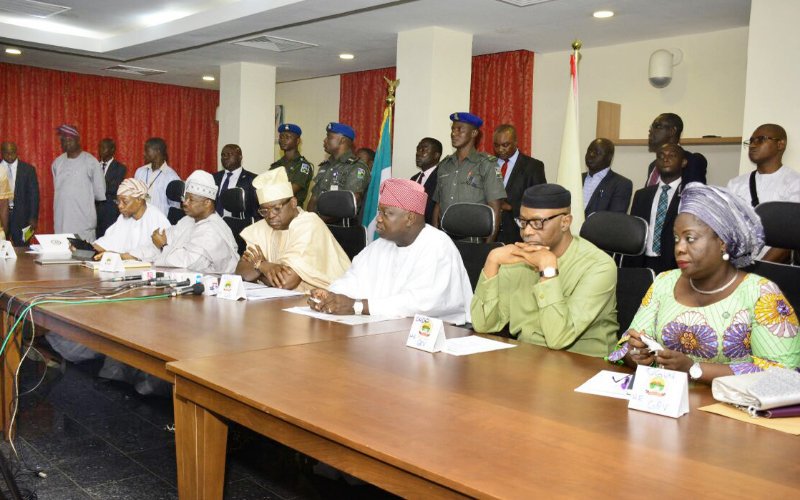 Governors of the South West states met in Ado-Ekiti on Monday and have agreed on ways to increase developmental activities in their region.
All the governors of South West attended the meeting. They include governors of Lagos, Akinwumi Ambode; Oyo, Abiola Ajimobi; Osun, Rauf Aregbesola; Ondo, Olusegun Mimiko; and Ekiti, Ayodele Fayose, as well as the Deputy Governor of Ogun Mrs Yetunde Onanuga.
They all agreed to pursue the common agenda under the "DAWN Commission" which is the acronym of Development Agenda for Western Nigeria.
The governors approved the constitution of a Regional Technical Working Group to tackle integrated infrastructure development on multi-modal transportation system to take care of highways, rail and water sectors.
In a statement read by Fayose, the governor of Ekiti State, the governors said that the states of Western Nigeria will be committed to the funding of the DAWN Commission as a fundamental and basic thing to do.
They all agreed that a uniform education curriculum for the region should be adopted in order, to checkmate the declining moral values in the society.
They also agreed that each state government should donate one centre in furtherance of the establishment of regional centres of excellence with "Odua Conglomerate" serving as platform that will drive the regional economic integration mission.
The governors also adopted the South West Regional Integrated Commercial Agriculture Development Programme, with Lagos State given the mandate to champion a structured regional food exchange programme.
Earlier in an address of welcome, Fayose said the coming together was meant to foster unity and accelerate development in the region. The group has  scheduled the next meeting to be hosted by Ogun. 
The group had earlier approved a developmental strategy on sports and agreed that Lagos State should host the first DAWN inter-collegiate games to strengthen the bonds and competitiveness among the youths of the region,.