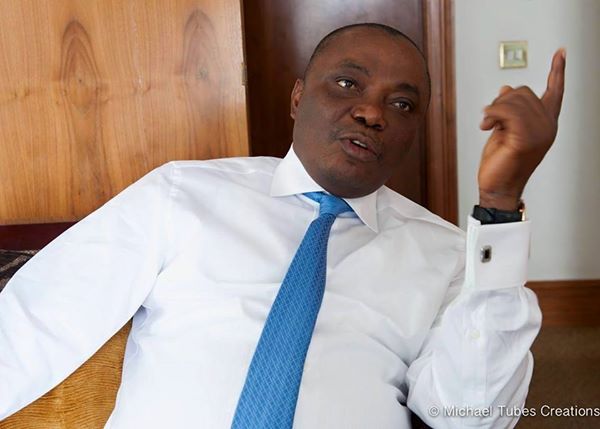 A bill seeking to amend the Code of Conduct Act and Administration of Criminal Justice Act 2015 on Tuesday has scaled into first reading.
Although the details in the bills are still sketch but it might be a move check Code of Conduct Bureau which is under office of the Secretary to the Government of the Federation.
The Code of Conduct Act CAP C15 LFN 2004 (Amendment) Bill, 2016 (SB 248), was sponsored by Peoples Democratic Party Senator Peter Nwaoboshi (Delta North).
While the Administration of Criminal Justice Act 2015 (Amendment) Bill 2016 (SB 249), sponsored by Senator Isah Misau representing Bauchi Central. 
Saraki is currently facing trial at the Code of Conduct Tribunal over alleged false declaration of assets.
Our correspondent gathered that both Misau and Nwaoboshi are members of "Like Minds" Senators and both had said in separate interview that nobody can remove Saraki.
Misau, in an interview, accused the Secretary to the Government of Federation, Babachir Lawal, and some others of interfering with Saraki's trial.
Nwaoboshi also had issued a threat message to the Presidency and the APC that if Saraki was removed, his party, the Peoples Democratic Party, will produce the next Senate president.
Nwaoboshi in the interview decried what he called messages of blackmail against Saraki on account of his trial at the CCT.
Why we are amending CCB, ACJA- Senator
The chairman Senate committee on Niger Delta, Peter Nwaoboshi, on Tuesday, said that the amendment of the Code of Conduct act is to save Nigerians from over-zealous politicians.
In an interview with newsmen at the National Assembly, he said the Code of Conduct Tribunal (CCT) and the Code of Conduct Bureau (CCB) now is under the Office of the Secretary to the Government.
He added that Babachir David Lawal, the secretary to the government who also oversees CCB and CCT, is a politician and can use his position to oppress his political opponents.
"The secretary to the government is a politician and can use it as a politician against political opponents or perceived political opponents.
"He oversees the CCB and the CCT, they report to his office.
"So since the Supreme Court in their judgment has said that they are a court of some sort, they must be seen to be neutral in nature and to not report to a politician.
"Not to be reporting to a politician and being over sighted by a politician: it should be seen as an independent body, doing its job, we give them what they are entitled to," he said.
He added that the intention of the amendment of the bill is to make it completely neutral, by moving it to the judiciary or the National Assembly.
They have the power to remove the Chairman and members of the tribunal.
—
© Copyright 2015 www.elombah.com. Send eyewitness accounts/reports/articles to publisher@elombah.com; follow us on twitter handle @Elombah; like our Facebook page: "Elombah.com"