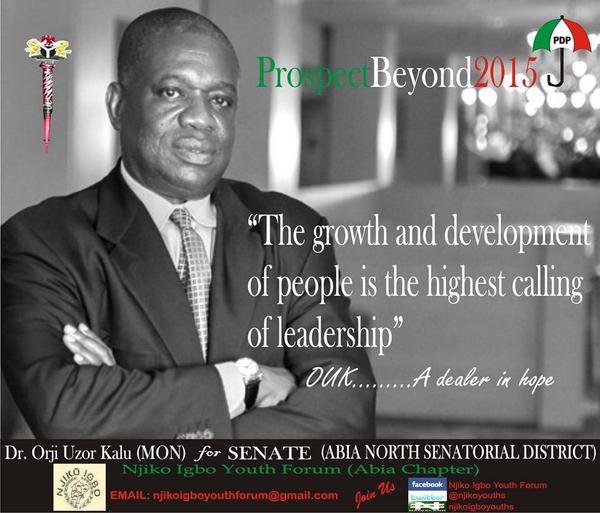 The National Auditor of the ruling All Progressives Congress(APC), Chief George Moghalu has described the recent dumping of the People's Democratic Party(PDP) for the APC by the former governor of Abia state, Dr Orji Uzor Kalu as a welcome development.
Also a frontline industrialist cum politician/ founder of the Osisioma Foundation, a non-governmental organization, Dr Chike Obidigbo has joined other eminent citizens to welcome Dr Kalu into the APC fold describing the news as heartwarming and a cheering news. 
Kalu, a founding member of the People Democratic Party (PDP) who earlier dumped the PDP to float the Progressive People's Party (PPA) prior to the 2011 general elections has on Tuesday announced his defection to the APC, vowing to deliver the southeast geopolitical zone to his new party 
In their respective but similar reactions on the development, Moghalu and Dr Obidigbo described Kalu's defection "as good news and a right step in the right direction" pointing out that the APC is the most suitable political party for the people of the southeast geopolitical zone at the moment. 
Dr Obidigbo who was a factional governorship candidate of the All Progressive Grand Alliance (APGA) during Nov 16 2013 governorship election in Anambra state had defected to APC with a lot of APGA members together with members of the Osisioma Foundation in Anambra state few months ago said that the APC is the only platform to provide Ndigbo with the capacity to fix themselves into the "desired mainstream" in the nation's scheme of things.
Obidigbo said that in finding ways to address the challenges facing the South East today, Ndigbo have to identify with APC to be able to sit and negotiate with others at the center noting that one cannot be outside and expect manna from heaven and end up complaining of marginalization.
The industrialist called in the other Igbo leaders to emulate himself and Kalu and join the APC as according to him "one has to be at the center to fight for his rights and not stay outside to complain of marginalization"
Moghalu said the APC warmly welcomes Kalu and many others who want to join as there were enough room for all so as to join hands in salvaging the nation.