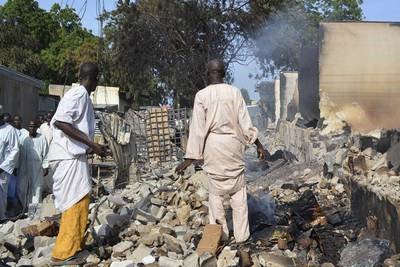 Socio-Economic Rights and Accountability Project (SERAP) has petitioned Ms. Agnes CALLAMARD, Special Rapporteur on extrajudicial, summary or arbitrary executions.
SERAP urged her to "prevail on the Nigerian authorities to halt further killings of innocent citizens in Southern Kaduna, and to urgently investigation recent allegations of killings of over 800 citizens mostly women, children and the elderly in that part of the country by suspected herdsmen, and to identify the perpetrators and bring them to justice, and to provide reparations to victims"
The organization also asked Ms. CALLAMARD to "request to visit Nigeria to conduct fact-finding mission into the circumstances surrounding the killings."
In the petition dated 30 December 2016 and signed by SERAP executive director Adetokunbo Mumuni the organization expressed "concern that the killings of citizens in Southern Kaduna of Nigeria amount to serious violations of the rights to life; to security of the human person; to the respect of the dignity inherent in a human being; and right to property guaranteed by not only the Nigerian Constitution 1999 (as amended) but also the African Charter on Human and Peoples' Rights and the International Covenant on Civil and Political Rights to which Nigeria is a state party."
The petition reads in part: "SERAP contends that Nigerian authorities have failed and/or neglected to respect these human rights and to exercise due diligence to ensure that these rights are not violated by private individuals such as herdsmen and other unknown perpetrators. 
"Nigerian government should therefore be held to account for failing or neglecting to guarantee and protect the rights of the people in Southern Kaduna, regardless of whether such violations are directly or indirectly attributable to the state or its officials."
"SERAP is concerned that the Nigerian government has failed and/or neglected to create an environment in Southern Kaduna to end the unlawful killings by failing to move their legal and institutional machinery towards the actual realisation of these rights.  
"It is in fact the failure by the government to take adequate measures to prevent the violence which has contributed to the increasing number of victims."
"SERAP believes that the killings would not have taken place if the Nigerian authorities have taken measures to prevent their happening and to address persistent impunity of those responsible for the violations and abuses. 
"The lack of accountability for the attacks by herdsmen and other unknown perpetrators across the country has continued to create a culture of impunity which clearly is not compatible with the rule of law in a democratic society."
"According to the leadership of the Catholic Diocese of Kafanchan in Kaduna State, a total of 808 people were killed in 53 villages across the four local government areas in the state ridden by crisis. 
"The church leaders also said that 57 people were injured; farm produce estimated at N5.5 billion were also destroyed, and a total of 1,422 houses and 16 churches were burnt during the attacks. 
"The affected communities are spread across Kaura, Sanga, Jama'a and Kauru Local Government Areas where there had been persistent attacks on communities by gunmen believed to be Fulani herdsmen."
SERAP therefore urged Ms. CALLAMARD to prevail on the Nigerian authorities to:
Take measures to urgently secure the right to life, right to security and dignity of the human person and right to property of citizens in Southern Kaduna, and to prevent further attacks and killings by herdsmen and other unknown perpetrators
Carry out an effective investigation into the circumstances surrounding the killings and to identify the perpetrators and bring them to justice, and to provide reparations to victims
Provide a framework of security for the protection of life, and to protect the lives of those individuals at risk from unlawful attacks in Southern Kaduna
Provide for an effective remedy and reparation for the victims
Adetokunbo Mumuni
SERAP Executive Director