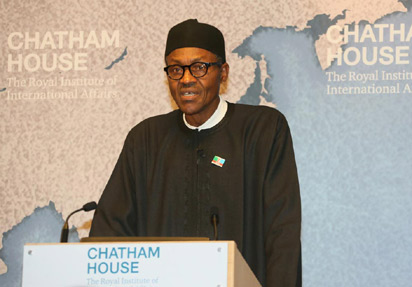 That the Nigerian President Buhari travels abroad frequently is beyond doubt. As of the last count PMB has made 16 abroad travels in 8 months in office which is about one travel ever fortnight. He has been to 26 countries and since membership of United Nations is 193 countries it will not be long before he completes his world discovery tours.
Why is the president going on these trips? It should be the question not the frequency of the trips.
And the answer is the nature of Mr. Muhammadu Buhari. He is a lonely and lonesome gentleman who listens to his own counsel, who trusts himself alone and who has standards that others cannot meet or he believes that others will not meet.
Given these sets of beliefs, Mr. Buhari likes to do things himself. He believes that if you want something to be done well; you have to do it yourself. He is not a believer in management as management calls for, and demands "delegation." One can see evidence of this "one man show" in all aspects of PMB's Administration.
How many smart and informed Nigerians can name up to 10 Nigerian ministers without consulting a list? Not many because most of them are invisible and have not made any policy pronouncements since inauguration/appointment.
1.   The Ministry of Finance is a highly visible position in any government. During the GEJ Administration Ms. Okonjo-Iweala was everywhere. Who is her replacement? What does she do? You can hardly say. Some people have accused her of incompetence. This scribe makes no such accusations. I think that there is no room for her as PMB wants to do everything himself. One would have seen her at the Legislature presenting and defending the government's budget as is done by Chancellor of Exchequer in British Parliament, or the Secretary of the Treasury in USA. She was nowhere to be found when PMB was seen unloading the budget proposal to the senators. One is yet to hear her say a word about where the country will be going in 2016. Or a word about fiscal policy.
2.   The most travelled person in any government is usually the Foreign Minister. He travels from one place to the other negotiating trade, political deals, peace treaties, etc. It is after the deals had been sealed that Heads of State meet to sign the agreements. But not Mr. Buhari. He will go to the countries negotiate with business round tables, oil producers, defense ministers, weapons suppliers etc., by himself. He might take the responsible ministers with him on occasions but he would be the spokesman. He does not know that by staying away from the details he would be able to bring a fresh pair of eyes on a deal. If you want something done well you must do it yourself is not always true.
3.   We hear of the firing of VC's and senior executives from the presidential spokesman, giving the impression that the firing was done by PMB. Such "dirty jobs" and announcements would come from the ministry of education and responsible ministries, but no it must be done in the office of the president as would be the replacements. I recall the statements made by Professor Aluko during his hiring as VC for Federal University of Otueke, about how he got a call from the then minister of education and was interviewed. There was no indication of GEJ's involvement even though GEJ's hands might have been behind it all. He was smart enough to have his minister do her work.
4.   The constitution calls for weekly executive meetings which ought to be where the ministers report of the progress or otherwise of their ministries and where they get their marching orders and the approval of their decisions. A couple of months ago it was announced that Executive Council meetings will hold once every two weeks. In practical terms it means that some ministers will now be seeing their boss just twice a month. The collegial atmosphere which the constitution envisaged has been suddenly abrogated.
5.   If there is a single evidence of do-it-yourself-administration, the budget debacle is it. The minister of health had to distance himself from some of the figures in budget as reported by Newsweek magazine. Other ministers if confronted would do the same. There was no budget conference where clear instructions were given to ministers as to what needs to be done. And no review of what was done, so that there would be one budget and one voice.
6.   Etc.
What is the way forward?
The dictator GMB must give way to the democratic convert PMB. It is true that there are many corrupt Nigerians but there are also many trustworthy citizens. PMB must trust his judgment in the selection of the team he had personally chosen. And empower them! They should be seen around the country and in foreign countries negotiating and cutting deals not just be seen embarking from a jet plane in PH as we saw Mr. Amaechi doing once.
We want to hear from Mr. Fashola on how many national low cost houses he would build and the criteria and distribution of the units. Nigerians would like to hear from the minister of Agriculture on how Nigeria will once more be the place to go for palm products and cocoa products. Do we want to see any chocolate factories soon? Any palm oil marketing Board soon? What is the plan for coal? What is the estimated time for a train to travel from PH to Enugu/Makurdi? Any word on the drainage of River Niger up to Onitsha/Makurdi?
Nigeria, a country of 140 million, is a large country and with is multi ethnic, multi religious units and with its different levels of development, etc.; it is too complex for any one person no matter how talented. The trick in running such an enterprise is building a team of committed individuals, empowering them and setting them loose.
If anyone wanders away from the set goals, the Commander In Chief would pull him/her back.
Benjamin Obiajulu Aduba, Boston, Massachusetts
---
---
DISCLAIMER

: Opinion articles are solely the responsibility of the author and does not necessarily reflect the views of the publishers of ElombahNews!
---
Would you like to be receiving ALL ElombahNews links 'On The Go' on WhatsApp Or Telegram? If yes, join us here on WhatsApp or Telegram, or provide us your Telephone number via publisher@elombah.com or sms/inbox +2349050382526 and you are good to go!
---
DOWNLOAD ElombahNews mobile app here
---
Send eyewitness accounts/ reports/ articles  to publisher@elombah.com; follow us on twitter @ElombahNews; like our Facebook page ElombahNews 
---
For adverts & inquiries, call +447460770987, +2349050382526