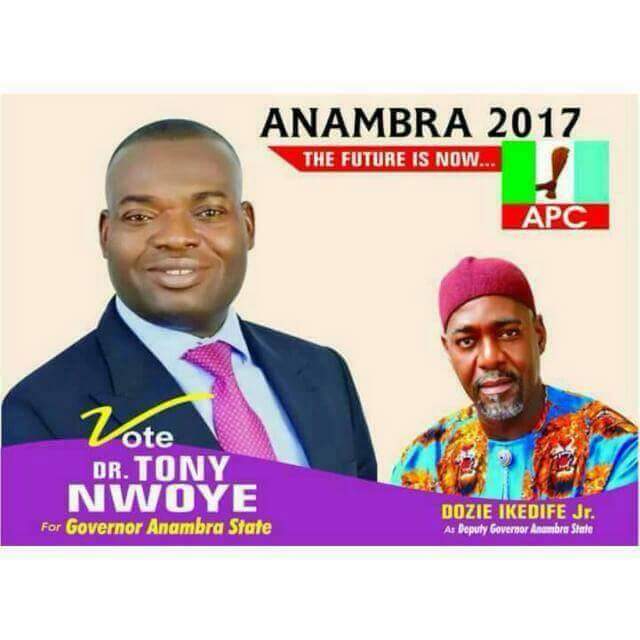 When Chief Willie Maduabuchi Obiano assumed the reins of authority as the 5th  democratically elected Governor of Anambra State, he practically did not tell Ndi Anambra that he had no agenda for the state,  this is true because in the course of his campaigns he harped much on continuity, which we discerned was a smokescreen to appeal to the voting public,  then held spellbound by Peter Obi's  performance. I remember warning Ndi Anambra that this 'nattered man' (Igbo slang for someone who just returned from overseas) from Texas had little or nothing to offer the state. And true to my postulations then, the word on the street is that Obiano has largely performed below par, throwing Anambra back into the squalls and baffling winds of little or no development. Three years and eight months into his first term, Anambra rather than progress has regressed  with APGA having neither direction nor advancement of the people of the state.
Sadly, the consequences of thrusting power to this Texas returnee who had not settled in the state for over four decades is clearly in the manifest in the state of affairs in Anambra; poverty and unemployment have been on the increase; corruption in the state has known a new apex and so also debauchery, while health, education and and the state's economic health are like  lizards falling of an iroko. 
Is there a state government in Anambra? Is there a functional government in practice and not in name alone, answering governor, deputy, speaker , commissioners and a litany of SSA's and SA, busybodies apparently doing nothing. A government that is thriving on propaganda and clannishness, corruption, impunity that at no point in time since the dark days of Chinwoke Mbadinuju did the confidence of the people of Anambra in governance and government  sink this low. 
In a state where the likes of Dr. Nnamdi Azikiwe, Emeka Ojukwu, Chinua Achebe, Kenneth Dike,  Nwafor Orizu,  have dominated the constellation of Nigerian  and global stars, it is quite saddening that fate has chosen to be unfair to us by thrusting upon us this shambolic administration. 
It is to this end that we seek to salvage the fortunes of the state and correct the grave mistake of  2013. This is the mission of Hon. Tony Nwoye, which is simply to free the state from the shackles of this underperforming administration. 
How does Nwoye intend to achieve this, what is the quality of his manifesto to attain such? Is the manifesto different from the flat commoness that greets the weary voter each time there is an election in Anambra?  Is it tailored to the germane needs of Ndi Anambra?
Responding, let it be known that the Nwoye Manifesto goes beyond the mere publication of high fallutin words, ideas and intentions. Within each sector , Nwoye articulates distinct policy directions well accompanied with well thought out strategies: Agriculture and food security, Education,Healthcare,Security, Industry,Youths, Sports and Job creation,Environment, Oil and Gas, Infrastructure and housing.
The Nwoye Manifesto is inclusive of policies and roadmaps to firmly turn back Anambra's developmental paroxysm as presently witnessed, prudence and accountability will be employed to once again set the state at a vantage point.
Nwoye believes that with Anambra's huge markets, drive and human capacity, the state ought to play leading role in Nigeria as well as that of West Africa.
Nwoye's message of hope  transcends politics, it is a covenant with the 182  communities and the people that make them up and  social contract for the uplifment of the state. 
Igboeli Arinze Writes From Awka 
—
Would you like to be receiving ALL Elombah.com news links 'On The Go' on WhatsApp?  If yes, please provide us your WhatsApp number via publisher@elombah.com or sms/inbox +2349050382526 and you are ready to go!
© Copyright 2017 www.elombah.com; unless otherwise indicated, all images are courtesy of Twitter; send eyewitness accounts/reports/articles to publisher@elombah.com; follow us on twitter @Elombah; like our Facebook page: Elombah.com; join us on WhatsApp HERE
For adverts & inquiries, call +447460770987, +2349050382526