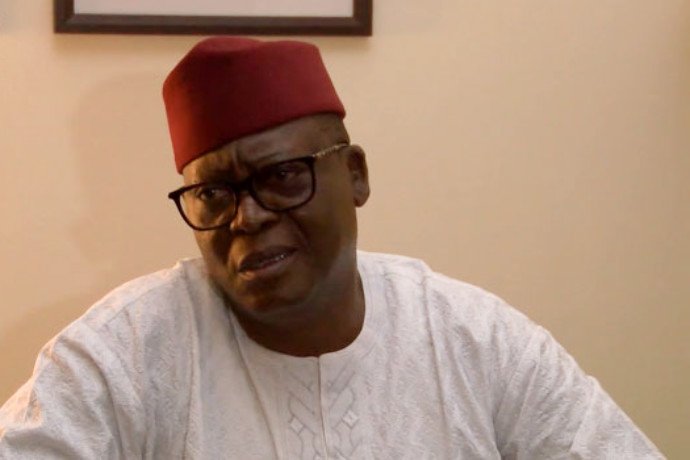 Anybody who sees Mr Dayo Adeyeye, the so-called PDP's National Publicity Secretary should tell him to quit the job because he does not have the capacity to sell anything and the Party he is trying to sell is a rotten egg. This is because the man who is selling a basket and the man who is buying the basket know that they cannot use it to store water.
The other day the former failed Governor of Imo State Chief Achike Udenwa told us how their moribund PDP will win 2019 elections. In a quick response to Chief Udenwa's joke, I said that PDP and their bunch of shameless followers cannot be trusted again in Nigeria for a long time to come given their dismal and disgraceful performance in years of plenty (1999-2015).
Dayo Adeyeye now stepped in and said that "Joe Igbokwe is crazy and needs medical attention" Now, Dayo must hear this: Dayo's PDP says stealing is not corruption and that is why Patience Jonathan and Dieziani stole and stole until they lost count of the number of houses, bank accounts, hectares of lands and how much they own.
Dayo Adeyeye's PDP was paying I.3 trillion naira yearly as subsidy to scammers in their fold and yet they supplied nothing. In the midst of oil boom each of the countries like Indonesia, Kuwait, Saudi Arabia etc saved more than 200 billion dollars but not Adeyeye's PDP, Nigeria. Instead they depleted our Foreign Reserves by more than 30 billion dollars.
Let Dayo Adeyeye tell us one single good project their PDP Government did in Nigeria in 16 years given the volume of money that passed through their hands. Did Dayo's PDP build the Tin Can Island and the Premier Wharf Road in Apapa where they carted trillions in 16 years? Did their useless PDP build the Enugu-Onitsha Road, Enugu-Port Harcourt Road, Nnewi-Okigwe Road or even 2nd Niger Bridge? Did their PDP clean up the oil spill mess in the Niger Delta in 16 years? Where they able to checkmate Boko Haram insurgence? Where they able to make even an attempt to checkmate corruption? What did Dayo Adeyeye's PDP do in the South West in 16 years?
In the midst of plenty Dayo's PDP left our critical institutions like Health, Education, Security, Power desolate, desecrated and decimated. The despicable characters in PDP stole us to bones and into recession. This is the reason Nigerians do not want to remember PDP again. They are praying to get out of the mess PDP left them and the looters are planning to stage a comeback.
Can you see how much Hammed Alli of Customs is remitting to TSA? Can you see how much Professor Oloyede of JAMB remitted to TSA? Can you see how much FIRS is remitting now?  Can Dayo see how much the thieves in PDP have coughed out since 2015? The truth is that the uneducated, low and crude Dayo Adeyeye cannot sell a useless product called PDP. Collin Powell says a dream does not become a reality through magic. You cannot give what you do not have.
Joe Igbokwe
—
Would you like to be receiving ALL Elombah.com news links 'On The Go' on WhatsApp?  If yes, please provide us your WhatsApp number via publisher@elombah.com or sms/inbox +2349050382526 and you are ready to go!
© Copyright 2017 www.elombah.com; unless otherwise indicated, all images are courtesy of Twitter; send eyewitness accounts/reports/articles to publisher@elombah.com; follow us on twitter @Elombah; like our Facebook page: Elombah.com; join us on WhatsApp HERE
For adverts & inquiries, call +447460770987, +2349050382526