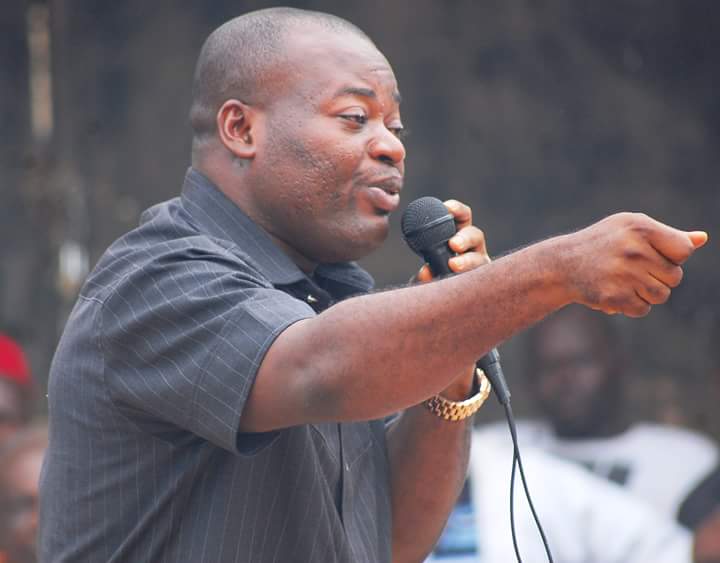 My attention has been drawn to an article titled "Anambra APC, Group Want Nwoye removed", published by Elombah.com. 
I suppose the writer wrote from a neutral point of view; but, the body of the article contains some damaging fallacies introduced or followed by the word "allegedly or alleged" meaning "without proof or unsubstantiated". 
For instance, the writer made reference to the alleged role of Tony Nwoye and Andy Uba in the murder of Barr. Igwe under Chinwoke Mbadinuju's regime as Governor of Anambra State. 
It is unfortunate that in this part of the world, our politics is bedevilled with people delighting in exhibiting inordinate image-tarnishing propaganda to deceive the uninformed. 
Ordinarily, in all civility, one wouldn't have responded to such malicious propaganda fed to the fourth estate of the realm by enemies of progress. But, posterity will also demand that the record be put straight. In consideration of the above, one is compelled to respond to some of the false allegations. 
In the first instance, the knowledge of the suspects who were arrested and tried by the court in connection with Igwe's  murder is in the public domain. 
Who was little Tony Nwoye to have participated in such heinous act without being arrested and tried by the court, when heavy weights like Mbadinuju and Ken Emeakayi were arrested and arraigned by the police in connection with Igwe's murder? 
Heaven and man knows that the Igwes were murdered by the Bakassi boys. Was Tony Nwoye, a science-inclined secondary school student preparing to sit JAMB exam to study medicine and surgery, a member of the dreaded Bakassi boys? Habaa! People should be reasonable.
The said article also made mention of the alleged role of Tony Nwoye in abducting Governor Chris Ngige and in burning down state institution under Ngige. 
It is on record that during Ngige's Government, Tony Nwoye was a medical student at UNN with no stake in Anambra politics. Ngige knows those who abducted him. We all know the "alusi Okija" saga between Ngige and Chris Uba.
It is a public knowledge that Ngige vehemently fought Chris Uba and never, for once, mentioned the name of the young medical student, Tony Nwoye. As at that time, none of the Ubas knew the person of Tony Nwoye.
The most unfortunate of all the allegations is for any sane person with functional thinking faculty to associate Tony Nwoye with cultism. 
Tony Nwoye attended university at a time when there were densely loaded pockets of inter-fraternity fracas and supremacy wars across Nigerian universities, leading to inability of cultists to win students' union elections as rival cults would not allow such. 
This situation favoured neutral persons who belonged to no cult like Tony Nwoye. This is largely why Nwoye contested and won a sit to represent medical students in the UNN students representative council. 
He later became the speaker of the council and went ahead to contest and won the prestigious post of President, National Association of Nigerian Students (NANS).
May God Almighty forgive all those who left the issues bothering on Anambra welfare and development to feed the electorate with unfounded lies. These are enemies of the youths. They are enemies of progress.
They do not believe Anambra youths have anything to offer. 
But, let us not forget that the reason why renowned scientist and inventor, Philip Emeagwali from Anambra State rejected Federal Government's award was, according to him (Philip Emeagwali), "I have no business with a country which does not believe in her youths". 
This is a clarion call for all youths in Anambra State to rise up and prove that we command the population of the state. Let us harken to the joyful tidings of the glorious future time, George Orwell would say, a time when our youths will be remembered, a time when the potentials of our youths will be fully unlocked, a time when Anambra will join the rest of the world in devolving power to the youths. 
Little wonder why Anambra is taking the lead. Our state is a state of many firsts. Certainly, Tony Nwoye's governorship of Anambra will rank among the firsts of history. 
Vote Tony Nwoye for Governor. He is a devout Catholic who grew up as a member of Block Rosary of the Blessed Virgin Mary. He couldn't have departed from the piety and virtuous tutelage under which he grew up.
#OurTomorrowIsNow
Engr Ifeanyi Anagwu is a lecturer of chemical engineering and National Vice President, Chukwuemeka Odumegwu Ojukwu University Alumni Association (08037579058).
—
Would you like to be receiving ALL Elombah.com news links 'On The Go' on WhatsApp?  If yes, please provide us your WhatsApp number via publisher@elombah.com or sms/inbox +2349050382526 and you are ready to go!
© Copyright 2017 www.elombah.com; unless otherwise indicated, all images are courtesy of Twitter; send eyewitness accounts/reports/articles to publisher@elombah.com; follow us on twitter @Elombah; like our Facebook page: Elombah.com; join us on WhatsApp HERE
For adverts & inquiries, call +447460770987, +2349050382526