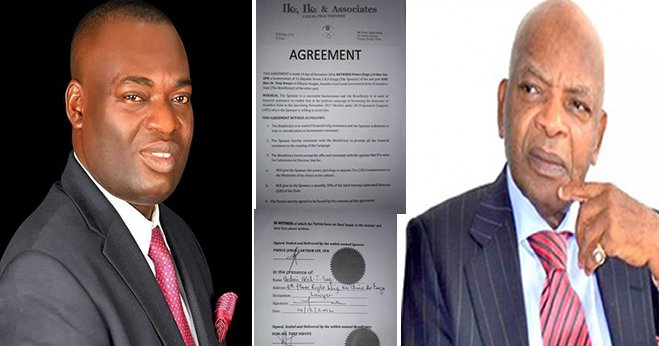 The Anambra State governorship aspirant under the All Progressives Congress [APC], Dr Tony Nwoye has responded to Elombah.com following the publication showing an agreement between himself and Chief Arthur Eze.
Dr Nwoye was responding to the Elombah.com publication titled "Shocker! tony Nwoye To Pay Arthur Eze 30% Anambra IGR For Sponsoring Him" Created: 25 August 2017 and shared on Twitter.
Taking to his Twitter handle @tony_nwoye , he wrote in a series of tweets to our Twitter handle:
"I am not surprised to see a very fake document emanating from the panicking aspirant whose major problem is myself."
"Without much talking. FACTS ARE SACRED. Pls kindly observe the two following documents and make your own decisions."
"One is surely fake while the other is real. PLS CHOOSE ONE.
"POINTS TO NOTE"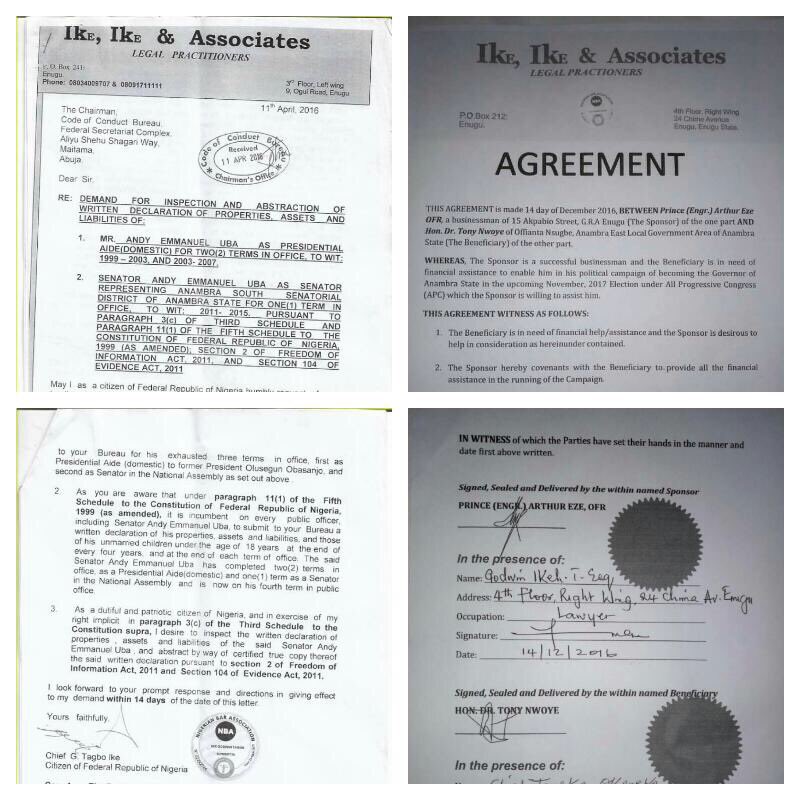 "1. The Lawyer,Godwin Tagbo Ike's signatures are not the same.His real signature is certainly not the one on the purported agreement so faked."
"2. Address on the fake document is 4th floor, right wing, 24 Chime avenue while the address of Mr Ike is 3rd floor, left wing, 9 Ogui road ."
"3. The fake doc has no telephone no. while  authentic letterhead has a phone no. &a very sharp&legible seal as against their very dim seal."
"4. Barrister Ike's real P. O. Box is 241 while the lousy crook decided to make it 212."
"Whatever the outcome of the primaries , God bless the @APCNigeria . And God bless Nigeria."
In a similar development, Chief Arthur Eze has disassociated himself from the said agreement, describing the document as "fake" and "handiwork of criminals".
In a chat with DAILY POST from his London home Friday night, the Nigerian Billionaire said, those peddling the rumours were aspirants who knew they would lose the election, hence, "they resorted to blackmail".
He said: "It is a handiwork of criminals. The criminals are going about writing nonsense.
"I challenge them to come out and prove it. I give government money, government doesn't give me money.
"When there was a flood menace in Nigeria, I gave federal government N1bn. I have sponsored many Governors. 
"My asset is bigger than Anambra and the whole South East Governors. 
"I have given Current Anambra State Government over N1bn for youth Empowerment and other welfare packages for the good people of our state.
"Those peddling the rumours know that they are going to lose the APC primaries tomorrow. 
That is why they resort to blackmail. How can I touch poor people's money? I am not a tax collector.
"God will punish me if I touch poor people's money. The one God gave to me is enough for me. I am one of the oil producers in Nigeria and in Africa.
"It is a fraud. I never signed any agreement with anybody and I will never sign", Eze told our reporter on phone.
He said he had reported the case to the Police in Anambra and that "they are investigating".
He assured that the person behind this baseless publication will never go free.
—
Would you like to be receiving ALL Elombah.com news links 'On The Go' on WhatsApp?  If yes, please provide us your WhatsApp number via publisher@elombah.com or inbox +2349050382526 and you are ready to go!
© Copyright 2017 www.elombah.com; unless otherwise indicated, all images are courtesy of Twitter; send eyewitness accounts/reports/articles to publisher@elombah.com; follow us on twitter @Elombah; like our Facebook page: Elombah.com; join us on WhatsApp HERE
For advert placement call us on +447460770987, +2349050382526