Photo shows the mother of triplets – Comfort Ikunga
A mother of five girls, including a set of triplets – Comfort Ikunga – has been stabbed to death in her home in Rivers state, by unknown felons.
The recent killing took place in Rumuekini community in Obio Akpor local government area in Rivers state.
38-year-old Comfort was reportedly stabbed while asleep.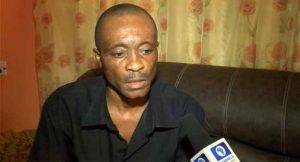 Speaking to Channels Television, a visibly shaken husband of the deceased expressed immense shock.
He explained that he only went out to watch football and on returning, his wife had been stabbed to death.
 The husband of Comfort
The Rivers State Police Command, meanwhile, said nothing would be left to chance in investigating the murder of the mother of triplets.
The police promised to continue to do their best in ensuring that the security situation in Rivers State was not left in the hands of common criminals.
They have also continually urged citizens to join efforts with security agents and be more vigilant, as "fighting crime requires the efforts of all citizens".
© Copyright Channels Television; Send eyewitness accounts/reports/articles to publisher@elombah.com; follow us on twitter handle @Elombah; like our Facebook page: "Elombah.com".
Share your thoughts in the comment box below: