Troops Arrest 8 Armed Bandits In Taraba, Recover Arms
AS army develops counter IED capacity
Troops of Sector 3 deployed under the auspices of Operation WHIRL STROKE while on patrol yesterday came in contact with armed bandits along road Manya – Gangun in Ussa Local Government Area of Taraba State and 8 armed bandits were arrested.
Items recovered include; 2 AK 47 rifles, one K2 rifle, 2 Dane guns, 56 rounds of 7.62 special ammunition, 25 K2 rounds, 3 cartridges, charms and phones. They are currently in own custody undergoing interrogation.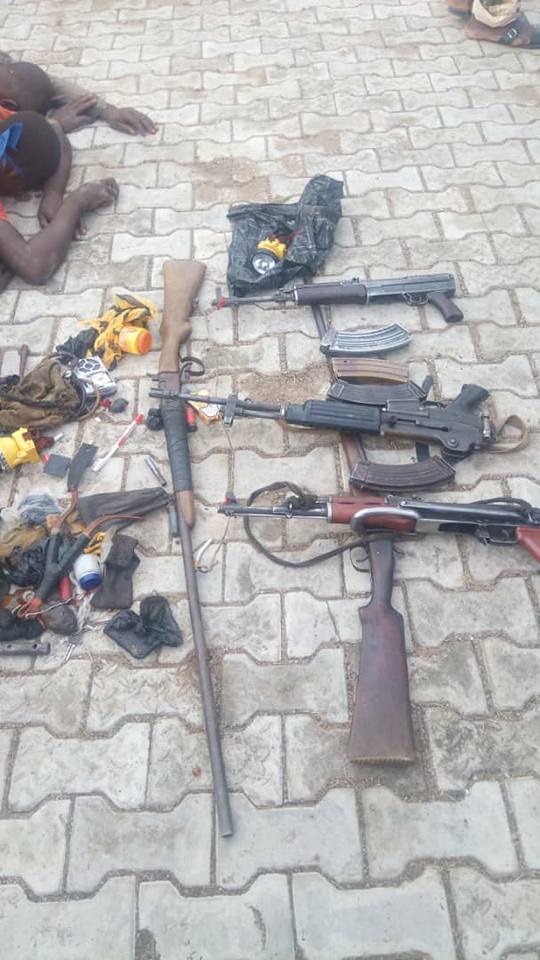 Recently, Troops of 1 Brigade, Nigerian Army Sokoto, who are currently involved in OPERATION IDON RAINI in Zamfara State, on Thursday 17 May 2018, killed three bandits at Danmaijiya village in Maru Local Government Council.
The troops encountered the bandits during clearance operations in Mahalu and Danmaijiya villages of Dansadau District.
After the encounter that lasted over thirty minutes, the bandits succumbed to the superior firepower of the troops with three killed and several others escaping with gunshot wounds into the forest.
In addition, one motorcycle that was abandoned by fleeing bandits was also recovered.
ARMY DEVELOPS COUNTER IED CAPACITY
In a related development, the Explosive Ordnance Disposal Component of Operation Lafiya Dole has concluded training for the first set of 22 personnel in an Explosive detection and disposal training program organised by the British Liaison and Support Team in Maiduguri.
The capacity development program came in the heels of Boko Haram terrorists resort to attacking soft and vulnerable targets in North Eastern Nigeria.
In response to the terrorists IED attacks, the British Liaison and Support Team in partnership with the Theatre Command organized instructional and practical training packages to shore up troops' Counter IED capacity in theatre of operation.
The British team also made a donation of Explosive Ordnance Disposal kits to each of the trainees.
In a symbolic presentation of one of the kits to the Theatre Commander Operation Lafiya Dole, the Commander of the British team Lt Col Alex Micheal said the training program was United Kingdom's support to Nigeria in the fight against terrorism and insurgency in the North East theatre.
The Theatre Commander, Major General Rogers Nicholas expressed appreciation for the support and partnership, assuring that the EOD troops will now be better able to function efficiently.