UDP Attacks Fani-Kayode Over His Remark On Mama Taraba
Says "you are a jobless man"
The United Democratic Party [UDP] Youths Forum has unleashed attack against former Minister of Aviation, Chief Femi Fani-Kayode following his remarks on the treatment on the immediate past Minister of Women Affairs and Social Development, Senator Aisha Alhassan by her former party, the All Progressives Congress [APC].
Chief Fani-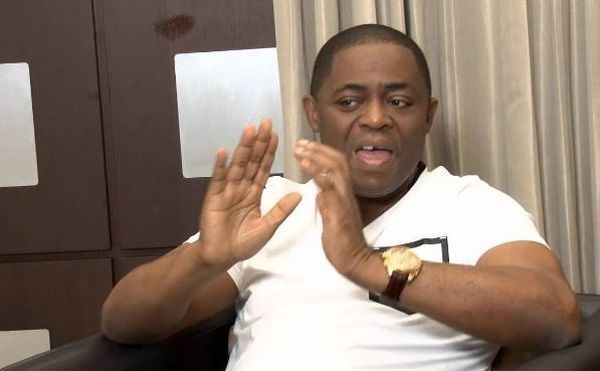 , in a short statement made available to ElombahNews, had written:
"A few months ago I advised the erstwhile Minister of Women Affairs, Aisha Alhassan (AKA Mama Taraba), that she should leave Buhari's cabinet and the APC before they humiliate her, push her out and insult her.
"She responded by insulting me.
"Now they have humiliated her, pushed her out and called her a 'hypocrite that was working for PDP'.
"Poor, dumb Aisha!"
Reacting to the statement, UDP, Senator Alhassan's new party condemned Fani Kayode in strong term for casting aspersions against her.
The Director of Communication, UDP Youths Forum, Mallam Abubakar Isah, in a press  release said:
Our attention has been drawn to the scathing remark made against our governorship candidate for Taraba State and the immediate past Minister of Women Affairs and Social Development, Senator Aisha Alhassan by a jobless and lousy ex-Minister of Aviation, Mr. Fani-Kayode concerning the former's resignation.
We had wanted to ignore the lousy ex-minister who has been constituting public nuisance in Nigeria, but because he overstepped his limited boundaries by casting aspersions on our governorship candidate, we decided to reply the idiotic man for attempting to impose his myopic political views on Mrs. Alhassan.
How can Mr. Fani-Kayode who has never ran for any elective position in Nigeria be the one to advise Senator Aisha Alhassan on how and when to resign from her former position?
We believe that accepting the myopic advise of Fani-Kayode by Senator Aisha Alhassan is like the Pope accepting the advise of a Catechist on when and how to conduct Mass in the Catholic Church.
What other value does Fani-Kayode has to contribute apart from insulting people at will?
We therefore warn Fani-Kayode and his likes to keep-off from Aisha Alhassan whom God has ordained as the next Governor of Taraba State.
Asking how this would happen is like asking Donald Trump how he emerged as American President against public opinion.
We therefore advise people who have nothing useful to contribute to our electoral victory in Taraba State to keep quiet or face bombastic response.