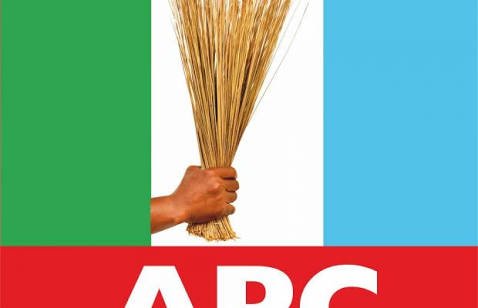 The North East Zonal office of the All Progressives Party (APC) in Bauchi has outrightly distanced itself and refuted that they have never at any point in time nominated Umar Duhu to replace the vacant office created by Engr Babachir David Lawal  as a North East Vice Chairman of the Party.
In a letter, the zonal publicity secretary, Engr Hamid Iliyasu, Zonal women leader, Mrs Fatima Danjuma and Zonal Youth Leader Mr Michael Tanko appended their signature and copied to Atiku Abubakar, former vice president of Nigeria, Speaker House of representatives, the Governors of Adamawa, Borno, Yobe, Bauchi, Leader North East Senate caucus and North East House caucus.
They accused Umar of parading himself with a forged letter headed paper to have been nominated by our zonal party stakeholders as the north east Vice chairman.
In the letter it reads that:
"It has come to our notice to a letter dated 20th January, 2017 and petition send to the office by one Umar Duhu with an unknown address. 
"We wish to inform you that this individual is not known to us at the zonal office nor was a meeting held with any of us at the zonal office. 
"However we are very surprise to discovered the following:
"A letter headed paper purported to be of the north east zone [was found] in his possession. 
"That a meeting was held with some stakeholders who appended their signature in the purported zonal letter headed is strange to us. Also when and where the meeting took place remains a mystery.
"In view of that, we believe the zonal letter headed paper was forged and the stakeholders signature were gotten under false presence. 
"We therefore urge the national Secretariat to further investigate this infringement."
They asked myriads of questions in the letter that need cogent answers from Umar Duhu, as according to them, the purported letter forged by him it does not have any of the  zonal officials signature.
"Why was the letter dated 20th January 2017 and was received 28th June 2017 in a period over five months?"
"Who originated the letter from zonal office that didn't sign the letter? 
"How were the signatures obtained since some officials started acting after the purported meeting  and none of the signatures were dated?"
In their observations the stand on the view as a zonal office disassociating  themselves with the letter. And the nomination of  Umar Duhu as a replacement of Babachir David Lawal as national Vice chairman North east is not coming from the zonal office in Bauchi.
The letter also reads that:
"Our investigation revealed that the under signed did not accept to have held any extra ordinary meeting regarding replacement of national vice chairman north east.
"To these effects the post is zoned to Adamawa state and we stand by any nomination emanating from the State party and the stakeholders. And any documents carrying any order nomination is null and void."
After many efforts made to get Umar through his telephone line failed to commend on the petition that is accusing him of criminal act, the nominated North east Vice chairman, Comrade Mustapha Salihu responded that Duhu is just chasing shadows with venoms of his political utterances.
He labeled Umar as a blackmailer and a popular desperado who is seeking for ungodly way of wanting to be a leader at all cost because of his evil agenda to settle scores with other political allies of the party.
"How can Umar forge a letter-headed paper of the north east zonal office of our party, falsifying people's signature using it to induced some of our stakeholders that they are endorsing  him to be the Zonal Vice chairman of the North East of the party. 
"I'm indeed disappointed to have such a member in the Party who claims he knows everything but yet acting uncivilized to get what is due for," Mustapha said.
Mustapha also denounced that no any protest of whatever type elsewhere against his nomination carried out as told by Umar; that Duhu only sponsored tugs to bringing out shameless schemes of his  in a broad day light for him to disgrace himself. 
"Please tell what stake does Ayuba Tumba has in APC? Go through the records; all the people who claimed to be stakeholders along with Ayuba Tumba are just attention seekers with no stake in APC.
"According him there is no protest from anybody in the party in all  the six state constituting the zone but he was reliable told Umar hired  unknown persons (tugs) to the leadership of the party to disgrace himself. If they are truly stakeholders which position do they hold in the party?
"In an interview carried out in one of the national dailies Umar was quoted to be saying that no any member of the National working community (NWC) is at the know of my nomination, but the question I want to ask is:
"Why is it that no any member of the working committee is complaining or challenging my stand as the nominated National Vice chairman of the North east zone?" He asked.
He continue to say that Umar should be properly inform that nobody is stopping him to contest as the seat is zoned to Adamawa state in as much as is being nominated by the stakeholders of the state.
"Umar Duhu did not follow due process which is to secure nomination from his state party chapter  but went and forged a letter headed paper of the party and my fears is that if he does not explain how he got the letter there could be legal consequences against him," He added.
—
Would you like to be receiving ALL Elombah.com news links 'On The Go' on WhatsApp?  If yes, please provide us your WhatsApp number via publisher@elombah.com or inbox +2349050382526 and you are ready to go!
© Copyright 2017 www.elombah.com; unless otherwise indicated, all images are courtesy of Twitter; send eyewitness accounts/reports/articles to publisher@elombah.com; follow us on twitter @Elombah; like our Facebook page: Elombah.com; join us on WhatsApp HERE
For advert placement call us on +447460770987, +2349050382526