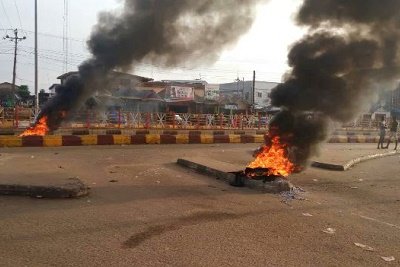 Violence have broken out in Akure over nomination of Jimoh Ibrahim as the Peoples Democratic Party [PDP] candidate in the upcoming Ondo State gubernatorial election  in November.
Elombah.com gathered that plan by Jimoh Ibrahim to visit the state today have been shelved for fear of not being welcomed.
Akure was a boiling point earlier in the morning as residents took to the street to protest the removal of the name of Eyitayo Jegede [SAN] as the PDP candidate from the final INEC list.
Major highways in the capital city and other parts of the state were blocked by protesters burning tires.
Also, activities in the capital city were paralysed as residents stay indoors over fear that the protest might soon turn awry.
Meanwhile, the Ondo State Government has appealed for calm and peace over the conflicting pronouncements emanating from the Courts and INEC on the gubernatorial candidates in respect of the forthcoming elections scheduled for 26th November 2016.
A statement by Ondo State Information Commissioner, Mr Kayode Akinmade urged the people to keep the calm and not result to self-help.
He assured that steps are being taken to ensure that there is no miscarriage of justice as the will of the people shall be respected.
He cautioned that life and property should not be destroyed because any untoward reaction at this moment will only heightened the body polity.
The government said human blood is too precious to be sacrificed on the altar of politics and politicking, with a caution against any form of violence.
Mr. Akinmade explained that the peace and tranquility which the state has enjoyed in the last seven and half years should not be truncated.
© Copyright 2016 www.elombah.com; Send eyewitness accounts/reports/articles to publisher@elombah.com; follow us on twitter handle @Elombah; like our Facebook page: "Elombah.com"