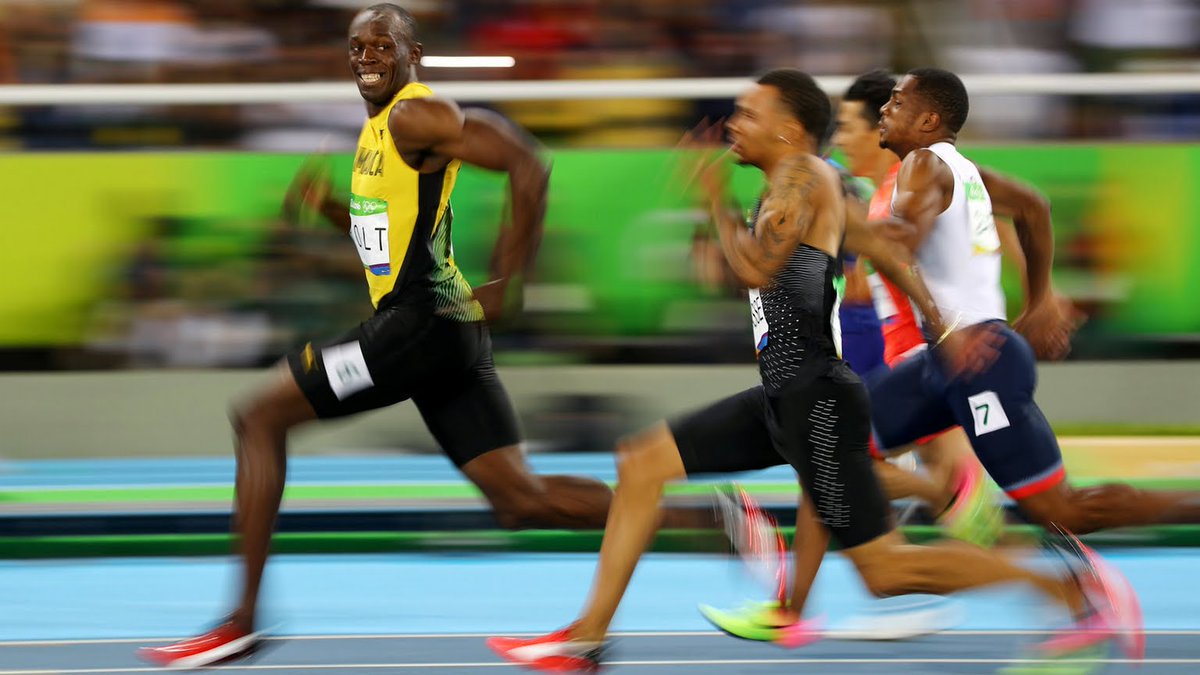 Jamaican sprinter Usain Bolt continued his winning streak on Day 9 of the Rio 2016 Olympic Games at the Olympic Stadium on August 14, 2016 in Rio de Janeiro, Brazil.
The Jamaican sprinter, otherwise known as the Fastest Man in the World sprinted for gold to perfect finish.
Five hours before the biggest race of the Rio Games, a horn at Olympic Stadium sounded and a clock began ticking backward. 
On the scoreboard at both ends read a message in all capital letters: COUNTDOWN TO THE EVENT.
Usain Bolt races aren't races. They are events, shows, entertainment distilled to its essence.
About 47,000 spectators here and billion or so worldwide watched Sunday night were not disappointed. 
The fastest man ever isn't ready to give up his title as the fastest man in the world quite yet.
Hamstring injury healed, legs churning like a tremendous machine, Bolt blistered past the fastest field in history.
He became the first person to capture 100-meter-dash gold medals in three straight Olympics. 
His timing – 9.81-second – though, time fell short of his 9.58 world record set seven years ago.
The only thing faster than Bolt around the track has been the dozens and dozens of photographers snapping his every step.
Bolt – his classic 6-foot-5 silhouette same as ever, only with his head shaved – still blitzed by the competition in a personal season best. 
American Justin Gatlin finished .08 seconds behind for silver and Canada's Andre de Grasse .1 seconds back of Bolt for bronze.
"Somebody said I can become immortal," Bolt said. "Two more medals to go and I can sign off. Immortal."
It must have been frustrating for his opponents who worked so hard for four years and have seen him get older.
They might have thought "maybe, maybe this year is my chance…" and then have their hopes dashed in a swoosh.
Also making matters worse is his penchant for smiling while he breezes past his opponents.
Questions about the 29-year-old Bolt's fitness, as well as the toll years of sprinting have taken on his body, lingered heading into the 100.
In less than 10 seconds, he put them to rest. 
With Gatlin, de Grasse and others, it was a field full of sub-10 sprinters, and a stumble off the blocks or anywhere on the straight track could have doomed Bolt. 
Never one to recoil from a big moment, he parlayed a good start into another gold, the crowd cacophonous from gun to finish line.
"It was brilliant," Bolt said. "I didn't go so fast but I'm so happy I won. I told you guys I was going to do it."
Not that there was any question Bolt was the fastest man ever.
But his three-Olympics stretch and record times do more than enough to dispel it. 
Before Bolt, only American Carl Lewis had won Olympic gold twice in the 100 – and his second came after the disqualification of Canadian Ben Johnson. 
On his attempt at a third, Lewis didn't even qualify for the race. Bolt didn't, technically, either. 
His hamstring injury kept him out of Jamaica's Olympic trials. He received a medical exemption.
As he did in the 2008 and 2012 Games, will try to win Olympic golds in his final two events: the 200-meter dash Thursday and the 4×100-meter relay Friday.
© Copyright 2015 www.elombah.com. Send eyewitness accounts/reports/articles to publisher@elombah.com; follow us on twitter handle @Elombah; like our Facebook page: "Elombah.com".
Share your thoughts in the comment box below: