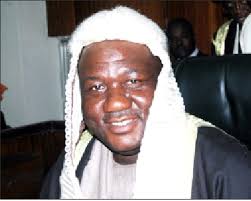 Presently the Ex-Speaker is being investigated by ICPC, FCID (Force Headquarters) and other security agencies for fraud, corruption and murders. 
Popular Socio-Political crusader, Citizen Ikenna Samuelson Iwuoha has commended President Muhammadu Buhari on his current efforts to give corruption a bloody punch, pointing out that corrupt practice among Nigerians would be drastically reduced if the current drive and fight against it is sustained.
In a press release personally signed by the anti-corruption crusader, Citizen Samuelson drew the attention of the President to the corrupt nature of Imo State House of Assembly immediate Ex-Speaker, Rt. Hon. Benjamin Uwajumogu. 
He described Uwajumogu as not only corrupt but a murderer who reportedly sponsored the killing of several of his aides in questionable circumstances, insisting that his attempt to kill him on the 3rd of June 2014 failed, which eventually led to the brutal murder of one Architect Franklin Okolie.
To cover up the murder, Citizen Samuelson said Uwajumogu connived with the Imo State Police Command led then by CP Abdulmajid Ali to cover up the Crime.
According to the Activist, the five boys sent by Benjamin Uwajumogu to kill him, who later murdered Architect Franklin Okolie, have not been arrested by the Imo State Police Command even though they have their names and addresses. Hear Citizen Samuelson:
"Benjamin Uwajumogu is a fraudster, very corrupt, mentally unstable. He killed many of his aides. His attempt to kill me on the 3rd of June 2014 failed when he sent five boys to assassinate me at my residence. However, one Architect Franklin Okolie was killed by those boys in front of my house. 
"The Imo State Police Command are with the names and addresses of those boys but have shamelessly refused to arrest them because arresting them would confirm Uwajumogu's involvement in the sordid act"
On the issue of corruption involving the Ex-Speaker, the activist stated that the former Chairman of EFCC Mr. Ibrahim Lamorde compromised the Commission when he swept his petition under the carpet, after collecting huge bribe from Benjamin Uwajumogu. 
Presently the Ex-Speaker is being investigated by ICPC, FCID (Force Headquarters) and other security agencies for fraud, corruption and murders. 
Citizen Ikenna Samuelson Iwuoha has therefore called on President Buhari to step into the matter to ensure that Ex-Speaker Uwajumogu is arrested and prosecuted for his various Crimes against humanity. Hear the activist again:
"President Buhari is fighting Corruption. He is fighting fraud in high places. This is an opportunity for him to prove to Nigerians and the international community that he is sincere and genuine in his fight against corruption and political killings. The FCID (Force Headquarters') is doing its best in this case, but the Imo State Police Command has refused to corporate with the FCID in their investigation. 
"The Head of Homicide at the Imo State Police Command, Mr. Innocent Obi has consistently refused to hand over his reports on the various murders, especially his report on the investigation on the brutal murder of Architect Franklin Okolie to Senior Police Officers from FCID led by Supol Faraday Amaechi. This is the time President Buhari should step into this matter. I will never give up,'' Citizen Samuelson concluded.
—
© Copyright 2015 www.elombah.com
Send eyewitness accounts/reports/articles to publisher@elombah.com; follow us on twitter handle @Elombah; like our Facebook page: "Elombah.com"
---
---
DISCLAIMER

: Opinion articles are solely the responsibility of the author and does not necessarily reflect the views of the publishers of ElombahNews!
---
Would you like to be receiving ALL ElombahNews links 'On The Go' on WhatsApp Or Telegram? If yes, join us here on WhatsApp or Telegram, or provide us your Telephone number via publisher@elombah.com or sms/inbox +2349050382526 and you are good to go!
---
DOWNLOAD ElombahNews mobile app here
---
Send eyewitness accounts/ reports/ articles  to publisher@elombah.com; follow us on twitter @ElombahNews; like our Facebook page ElombahNews 
---
For adverts & inquiries, call +447460770987, +2349050382526