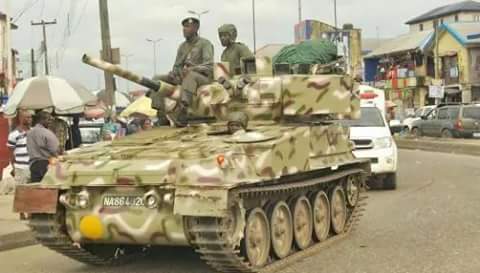 Information coming in to Elombah.com right now states that operatives of the Nigeria Army under Operation Python Dance II have invaded the home of Mazi Nnamdi Kanu's in Umuahia, Abia State.
SEE VIDEO BELOW
Our correspondent reported that the army operatives have killed at least three persons.
He said: "The home of the Nnamdi Kanu is under serious attack right now. 
"The Nigeria Army came to his home in Afaraukwu in Umuahia and started shooting. 
"Several people have been shot and others dead."
September 10, 2017 – VIDEO
Today the Nigerian Army attacked unarmed civilians in the vicinity of the home of the Leader of the Idigenous People of Biafra (IPOB) in Afaraukwu, Umuahia, Abia State.
In the enclosed video are dead civilian is seen by carried by his neighbors as Nigerian Army Armored Tanks comb the area. At least 3 are confirmed dead.