Nigeria's Senate President Bukola Saraki Stoned At Eid Praying ground in Ilorin Kwara
state. Protesters storm the Eid Praying ground in Ilorin Kwara state yesterday chanting anti-government songs and hurling stones and sachet water against Nigeria's Senate President Bukola Saraki.
Bukola Saraki has denied he was never stoned at the Eid Prayer Ground during the prayers to mark the Eid-el-Kabir in Ilorin earlier today as reported in the media.
But the above video contradicts his claim as the chanting of the crown in Yoruba language calling him OLE, OLE (THIEF, THIEF) demonstrates.
A member of the protesters was heard clearly saying that "Bukola ole ni (Bukola is a thief) even at the Police used tear gas to disperse the crowd.
Senate President who spoke through his media office added that he was never attacked nor was there any attempt made on his life to warrant him being 'whisked away' as reported by a section of the media.
Saraki said he had earlier spoke with reporters at the prayer ground as he arrived in the company of the Emir of Ilorin, His Royal Highness (HRH), Alhaji Ibrahim Sulu Gambari, Speaker of the Kwara State House of Assembly, Rt. Hon Ali Ahmad and a former Chief Justice of Nigeria (CJN), Justice Alfa Belgore.
"We want to say that nothing can be further from the truth as the Senate President was never attacked nor was there any attempt made on his life to warrant him being 'whisked away' as reported by a section of the media.
"We however observe that there was a protest allegedly staged by local government employees over purported non-payment of salaries which hoodlums attempted to hijacked but this development was immediately curtailed by security agents."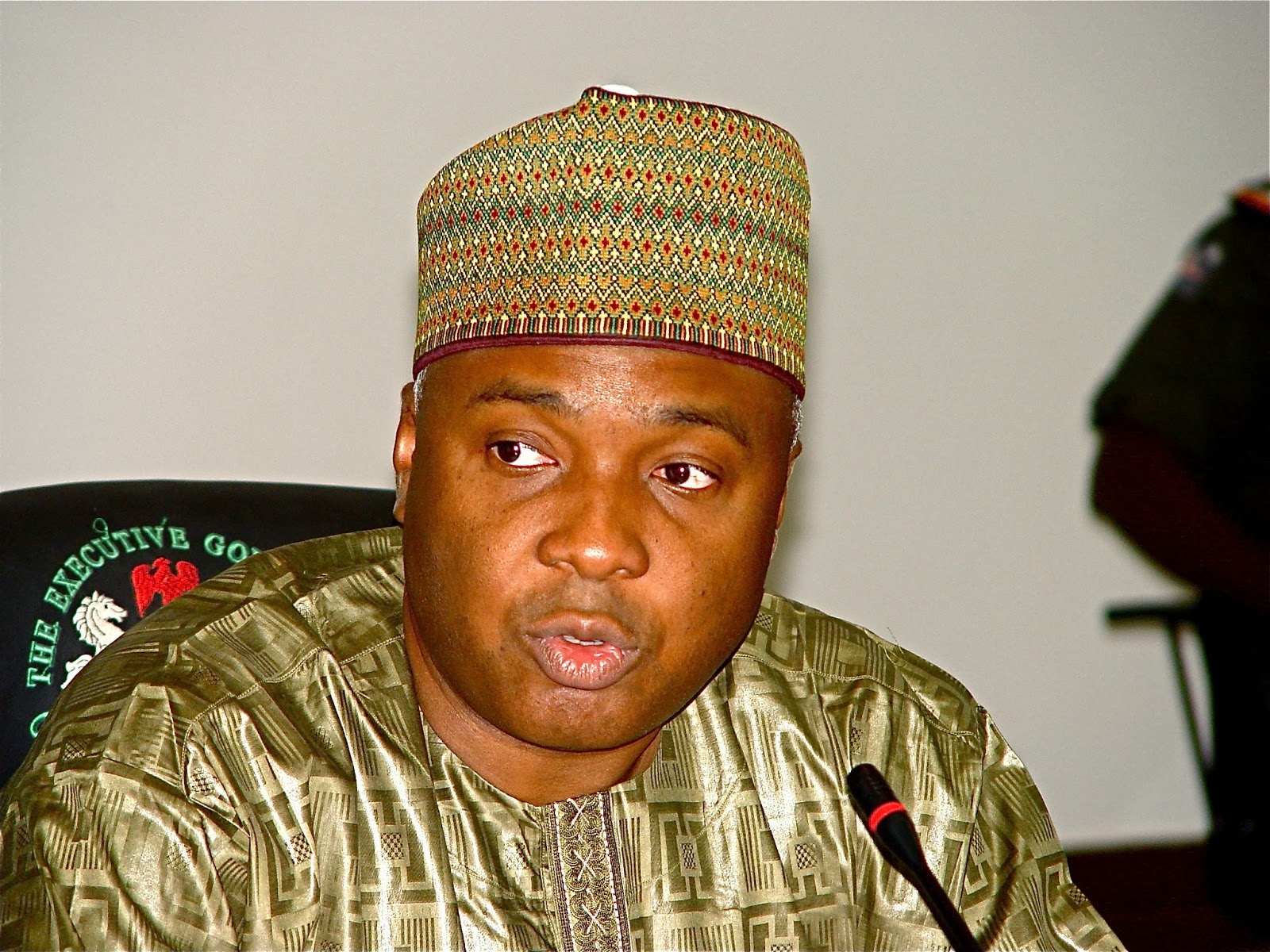 Saraki
Meanwhile the Nigerian police yesterday said they arrested eight persons connected to the attack on Senator Bukola Saraki and other personalities at the Ilorin praying ground.
Police spokesperson, Ajayi Okasanmi, described those that were arrested as "miscreants", adding that there was no record of any civil servant or government official among those arrested. 
Said he: "The state police command deployed no fewer than 2000 policemen in synergy with other security agencies to make sure that the Eid-el-Kabir celebration is a huge success. In the course of prayers, there was the insurgence of criminals which we put into consideration while planning our security strategy. We know they normally come to beg for money from well-to-do members of the public. 
"So they came as usual, but we noticed they were becoming unruly. We had to come out to prevent them from getting to where the VIPs were seated. We then chased them away and we arrested about eight of them. They are in our custody and we have started investigation. 
"We learnt that one or two persons were injured; but there has not been any official reports as to if anyone was injured. The motive of their unruly behaviour is yet to be determined. As far as we are concerned, the people arrested are miscreants. 
"From the stories we are hearing, one or two vehicles have been damaged but we have not seen the vehicles. We also heard that one person was injured but we have not seen the person. 
"The prayers went as planned and the dignitaries came back to their various destinations without any hitch. Among the people arrested, there was no record of civil or government functionary; the eight arrested are miscreants."
melee at the prayer ground
Elombah.com had reported that the Muslin prayer was disrupted as the country's Senate president was pelted with stones and pure water sachets as he arrived at the prayer ground.
In the ensuing chaos, the prayers was disrupted and the Senate president was disguised and whisked away from the ground to save him from the anger of the crowd.
Other dignitaries to which the angry crowd directed their missiles included the Emir of Ilorin,  Ibrahim Sulu Gambari; the Chief Imam of Ilorin, Muhammadu Bashir; former Minister of Sports, Bolaji Abdullahi; Speaker of the Kwara State House of Assembly, Ali Ahmad; former Speaker of the Kwara House of Assembly, Razak Atunwa( now a member of the House of Representatives); a member of the House of Representatives, Amuda Kannike; a former National Chairman of the PDP, Abubakar Kawu Baraje; among others.
This was the first Eid that Saraki – who is being tried at the code of conduct tribunal for false declaration of assets, was attending as senate president.
Elombah.com learnt that protesters were angered by the inability of the state government to pay salaries of workers before the Sallah celebrations, rendering some civil servants unable to buy rams for today's Eid-el Kabir.
"Shortly after the senate president and other dignitaries arrived, some people started throwing stones and sachet waters in the direction of the Senate President and other important people," witnesses said.
"They started chanting Ole Ole Ole (thief), "Pay us our salaries", "Where is our bailout money" and "Don't use bailout money to service Abuja politics."
Before long, the situation deteriorated, as some of the protesters started destroying cars and other properties in sight. our reporter stated yesterday.
www.elombah.com
---
---
DISCLAIMER

: Opinion articles are solely the responsibility of the author and does not necessarily reflect the views of the publishers of ElombahNews!
---
Would you like to be receiving ALL ElombahNews links 'On The Go' on WhatsApp Or Telegram? If yes, join us here on WhatsApp or Telegram, or provide us your Telephone number via publisher@elombah.com or sms/inbox +2349050382526 and you are good to go!
---
DOWNLOAD ElombahNews mobile app here
---
Send eyewitness accounts/ reports/ articles  to publisher@elombah.com; follow us on twitter @ElombahNews; like our Facebook page ElombahNews 
---
For adverts & inquiries, call +447460770987, +2349050382526