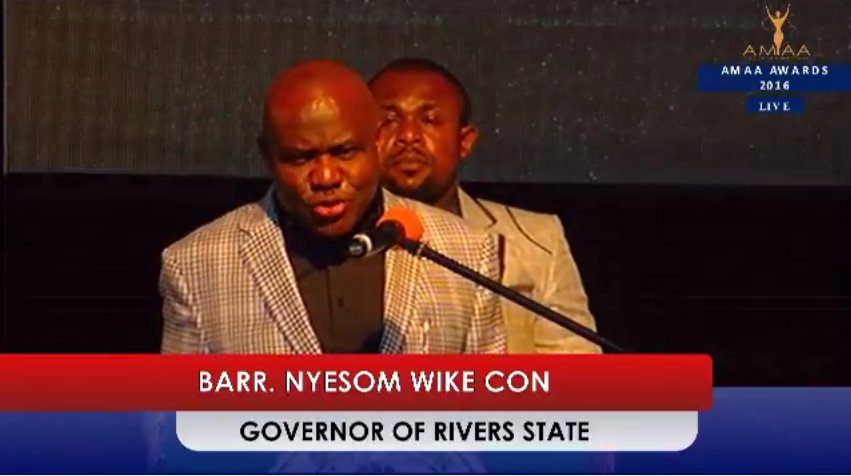 Rivers State Governor , Nyesom Ezenwo Wike has declared that the state  is operating  a divine economy which  has enabled it continue to execute projects and pay salaries , when other  states falter.
The governor  noted  that the economic  recession  that has bedevilled  the country will not affect Rivers State  because God has positioned  the state for greater exploits.
Governor  Wike  who was represented  by  his Chief of Staff , Engineer Chukwuemeka Woke during the dedication of a New Church  and celebration of 100 years   of Saint Simon's Anglican Church , Ugiri-Ike , Diocese of Ikeduru , Imo State on Saturday , said the state has  continued to paid salaries , pensions and is considering to pay Christmas  bonus . 
He said : "We are not owing workers salaries in Rivers State , but we are considering how we will add Christmas bonus to workers.
"Rivers State Government is not operating an economy of recession , it is operating a divine economy .  That is why  in Rivers State , it is either we are commissioning  projects or we are flagging off construction of new projects "
The governor  lauded an indigene of Ugiri-Ike community , Mr Donald Denwigwe  (SAN) for his commitment  to  the promotion  of  the  rule of law .  He said  that  the state government is happy  to celebrate  with him and his community . 
He said : "Donald Denwigwe  (SAN ) was introduced  to  Governor Wike  at a trying  time  of the state political history by Emmanuel Ukala  (SAN ). At a time when  the government of the day in Rivers State wanted to scrap  the  PDP . 
""Governor Wike  felt that not everyone  should move to the APC  as requested at the time. The governor  insisted that the PDP  will not  be scrapped .  It was on this basis that he resolved  to approach  the court to enforce the right  of Rivers PDP  members to freedom of association "
The governor  explained  that  the Rivers State Government cannot  be intimidated , pointing  out  that  it will  always celebrate  those who promote the rule of law . 
He thanked God that Christianity  has continued  to  grow stronger in the area over the last one hundred years . 
Speaking  on behalf of the community , Mr Donald Denwigwe  (SAN ) said  that  the completion of the church  was made possible  by God . 
He also thanked God for sparing his life despite several  attempts by  the devil to eliminate  him through illness. 
He said that the new church  building  means that people  should worship  God with a pure heart.
The Senior Advocate of Nigeria and his family  thereafter gave thanks to God.
Simeon Nwakaudu ,
Special Assistant to the Rivers State Governor , Electronic Media . 
30th October , 2016.