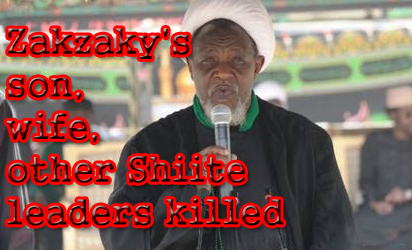 "The event of last year, when the Nigerian Army killed 34 members of IMN, which included 3 biological sons of Sheikh Zakzaky, is still fresh in our minds. To this day, not a single soldier was prosecuted for that massacre." – IMN
The Nigerian Government in order to justify its brutal attacks on the Islamic Movement of Nigeria & its leadership have yet again released a 3+ minutes propaganda video clip to buttress the fraudulent claims that IMN has a military wing that is a threat to the Nigerian nation. 
And they are frantically searching for ways to cover up their crimes or worst still, even justify it through these mischievous propaganda campaigns.
In the past Nigerians were told that the reason the Nigerian Army killed 1000+ members of IMN, attacked & destroyed the Zaria Husseiniyah & attacked the residence of His Eminence Sheikh Ibrahim, shot him, his wife and killed his children in front of him, was because members of IMN wanted to "assassinate Nigerian Army Chief".
In this video clip another reason was given to justify that Zaria massacre. "Credible information received that the sect is stockpiling arms and weapons in its headquarters (Husseiniyah)".
In this propaganda video the Nigerian Government claimed it received "credible information". The question to ask here is from who did the Nigerian Government received this "credible information"? 
The fact that they did not find a single bullet in the Zaria Husseiniyah means that information was not credible. It also prove that the Zaria massacre was an Imperialist agenda to ignite a bigger conflict in Nigeria that will plunge the Nigerian nation in to an unending crisis.
The IMN will not stockpile arms and weapons in a Husseiniyah or in any other place for that matter. Husseiniyah are primarily Islamic centers for mourning of Imam Hussain (as), the beloved Grandson of the Prophet (sa). 
Islamic programs and activities are also held in Husseiniyah such as celebrating the birthday anniversaries of Prophet Muhammad (sa) & of Imams. Shia Muslims does these programs in Husseiniyah because Sunni Muslims will not allow them use the Mosques they dominate for these purposes.
The propaganda video of the Nigerian government also claimed that IMN has "hidden agenda against the Nigerian Military". But for the entire 37+ history of IMN, none of its members have ever attacked the Nigerian Military.
In fact the IMN has been a victim of Nigerian Military brutality & massacre. The events of last year when the Nigerian Army killed 34 members of IMN that included 3 biological sons of Sheikh Zakzaky is still fresh in our minds. To this day, not a single soldier was prosecuted for that massacre.
Those members of the IMN that you see marching in that propaganda video are the Volunteer Aid Group of the Movement. Many organizations in Nigeria have such units by various names, whose duties essentially is development of the body and soul as well as community service such as crowd control, provision of social services and the rest.
 Similar units include the Boys Brigade, Boys scout, Girls guide, First Aid groups of various Muslim associations referred to as Yan Agaji in local Hausa language and so on. 
So what is strange with the Hurras group of the Islamic Movement in Nigeria? Conducting match parades or learning of martial arts shown in the video is equally not new or peculiar to the Hurras, and is in line with keeping the body and soul physically fit. 
Hence all previously mentioned groups similarly embark on such activities. What is strange in the video that should warrant it being an object of clearly a mischievous propaganda against the movement?
On a final note, there is no doubt that the events of 12th and 13th December in Zaria, Nigeria, was a coordinated & pre-planned attack on the IMN and its leadership. 
Thousand plus Nigerians were brutally killed & thousands more were injured some of them deformed for the rest of their lives. 
One of the reasons that make a society civilized is the utmost respect for human lives, all lives are precious because they were created by God. 
The world condemned ISIS & Boko Haram today because they cheapen human lives, they brutally kill people by showing no mercy. Such brutal killings were what the Nigerian Army did recently in Zaria.
Ibrahim Musa
President of Media Forum of the Islamic Movement