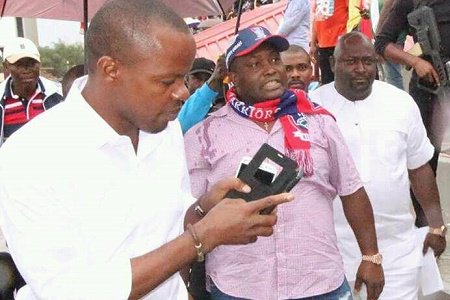 The Chairman, Capital Oil and Gas, Dr. Patrick Ifeanyi Ubah has stated that with conscientious interventionist policy, the commerce driven potentials of Anambra State can be enhanced to become a commercial hub of the entire Sub-Sahara Africa. 
Speaking at his country home Nnewi, during an interactive session with market leaders of the State, Ubah stated that Anambra State is blessed with ideas that can replicate the Chinese type of economic recovery.
He said: "We are blessed with ideas that can replicate the Chinese type of economic recovery here in Anambra State if government understands its role in commerce. It is not just about collecting tax but to create commercial enhancement policy relationship between it and business owners. "With government partnership with the traders and other business owners in the state, we can create a thriving local economy in Anambra state that will make it a commercial hub in sub-Sahara Africa."
Ubah pointed that Anambra State must think beyond waiting for Federal Government's intervention, stating that "we can build a strong economy on our own without looking the direction of the center." He added that, "We as a state must get ambitious towards enhancing our commercial potentials by partnering with the traders in our state. 
The 21st century is not a century for lazy sub-national governments, rather a century that beckons on States to build a thriving local economy. "You can't grow commercial activities in any territory where the traders or investors are not making profit. However, attracting business to the state is not enough, but making Policies that will reduce the cost of doing business in the state and create profit margin that will encourage business expansion which will in turn aid our economic recovery. 
"Without creating road map for commercial activities ,we will remain stagnant economically". Ubah said . Ubah, who is also the Publisher of Authority Newspaper, stated that Igbo race is endowed with the potentials to rival China in doing business, but regrets that "our businessmen and women lack the requisite support of their state governments which their Chinese counterparts do enjoy. 
"We are the only black race that can mimick the Chinese style of doing business, but unfortunately our business players do not get government's support like that of their Chinese counterparts. If I have the opportunity to govern Anambra state, I will not just replicate but internalize the Chinese model of commerce here in Anambra state," he said. Ubah who speaks over four western languages and about five African languages stated that his knowledge of International business politics and that of local economy will help him achieve his set goals on issues of creating synergy between the international Business community and the local economy. His words: 
"I understand International business politics and how to synergize with foreign and local interest institutions for the benefits of our state's commerce. The point is that a 21st century business community needs government with knowledge of commerce to thrive."