Fulani militia, are they Boko haram or government militia?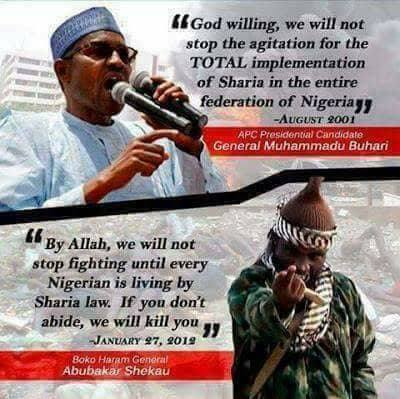 FROM THE ARCHIVES:Day Lam Adesina clashed with Buhari, Marwa, others – Vanguard News
https://www.vanguardngr.com/2012/11/day-lam-adesina-clashed-with-buhari-marwa-others/amp/
"…The meeting was called to order after Lam  walked into the Executive Chambers. Introductions over, Buhari spoke on their mission to the governor's office. Emitting fire, the general accused Lam and the  government of Oyo State of complicity in the killing  of over 68 Fulani people in Oke Ogun  area and perversion of justice.
His words: "Your Excellency, our visit here is to discuss with you and your government our displeasure about the incident of clashes between two peoples… the Fulani cattle rearers  and merchants are today being harassed , attacked and killed like in Saki. In the month of May, 2000, 68 bodies of Fulani cattle rearers were recovered and buried under the supervision and protection from a team of Mobile Police from Oyo State Command.
" That some arrests were made by Oyo State Police Command in the massacre with their immediate release without court trial. This  was said to have been  ordered by Oyo State authorities and they were so released to their amazement.  The release of the arrested suspects gave the clear impression that the authorities are  backing and protecting  them to continue the unjust and illegal killings of Fulani cattle rearers…"
According to the general, they therefore wanted immediate stoppage of the killings, justice and compensation  to the Fulanis.
As weighty and indicting as Buhari's  allegations were, Lam remained unperturbed. He  fired back  with his own well coordinated arsenals.
Lam identified all the points raised by Buhari  and simply asked the heads of the organizations directly involved  to respond to the allegations.
First to speak was the Commissioner of Police who debunked all the claims.  Instead of the allegation that the natives were killing Fulanis, the commissioner said pointedly that the opposite was the case…."