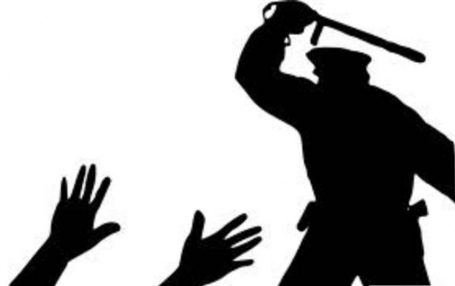 Late on Friday 30th, 2015, I go clubbing with a few friends. It has been a hectic week, and we head into the Rapongi Night Club, Festac; after all, as the legendary Ebenezer Obey observed, a hardworking soul deserves moments of refreshment… And so begins my latest encounter with your friendly Nigeria Police no longer friendly.
My right foot had ached all day from too much of incarceration following one or more bangs in the course of the day, so I step out of the Club to set my toes free. It is 1am. I stoop, un-lace my boot, free the foot, rub my toes and swing my leg. Then I stoop again to lace the boot, and that is when hell goes loose…
A rather unfriendly hand lands a massive slap on my back, then grabs me by the waistbands of my jean trousers and boxers, and drags me along. "Who are you, what do you…" The multiple slaps that subsequently land on my face ensure that I am unable to finish the sentence. I am then dragged towards three blue Volkswagen Faragon and flung into one.
About thirty of us are sandwiched inside the eighteen-seater bus. "Please, what have I done?" I scream as I raise my head to multiple slaps, this time more thunderous. Minutes later, a tear-gas canister is released inside the bus, the doors are locked, and these men, all in black T-shirts bearing the crest of the Nigerian Police Force with "Raiders" written across their chests, surround the bus, with their guns aimed at us. 
I bring my head out of the window to breathe, but it is quickly returned with a blow. "Bring this head out again, and I will shoot you," a gunman says, as he closes the window. "Let's move them!" a man who appears as their superior, shouts, and the three buses zoom off. As we are driven off, and I manage to see printed on the back of the one driving us, "Department of Criminal Investigation, Panti".
We eventually arrive at the Adekunle Police Station, Yaba. We are asked to raise our hands as we descend from the bus, then to pull off our cloth and sit on the ground. Our hesitations are hastily rewarded with plunges of gun barrels in our chests. We immediately appear as criminals being paraded, as the excited policemen take turns to capture us with their phones. One of them then comes with pen and paper, and asks us for our names.
We are then ordered to move one after the other, into a large room where we meet about a hundred shirt-less boys already sitting cross-legged on the bare floor. The policeman stationed at the entrance of this room, lands a heavy slap on the back of our necks as each of us enters. "Did it ring?" he asks excitedly; and if you hesitate to respond with "Yes, sir," he lands you another. I can barely get a space to sit in, but I manage as I see hesitations rewarded with blows, kicks and slaps.
It is impossible to not notice how happy these policemen are as they mock us. "Stupid people, una get money to dey go club go drink, go carry woman abi?" One of them says, with a hiss. Another comes to sit over us. I stretch out from under the table and reach for his hand. "Please, sir, I am not a criminal." He looks down at me and smiles. "So, you think everybody here is a criminal and you are the only one innocent?" and he frees his hand from mine.
Tired and weak, I begin to doze off until we are summoned to form a queue. We are to be transferred into some other room. As I draw near, I finally see the room: dark, darkened by the wails of the young men it houses. My heart beats faster. I run out of the queue to meet a man whom I hear them call Oga. "I am a journalist, sir," I tell him, with a quavering voice. "We work together with you people, the Law Enforcement Agencies, please help me, sir," I continue, as I look into his eyeballs to identify his soul…
"Identify yourself," he says. "Everything has been seized by your men," I reply. "But, sir, you can check my phone, I have already drafted an email I'm sending to my editor, about how your men picked me up and…" "Hey! Bring this man's cloth, he's a journalist," Oga calls out to the policemen who are standing by. I collect my cloth, and they bring a sack of phones and tell me to pick mine. "Isiaka," Oga calls to one of his men behind him, "go and drop this man, journalist, in Festac." "But, find them money for fuel o," Oga says to me with a smile. "Yes, sir," and I smile back at him with what remains of my battered face.
I am escorted outside, and walking behind them, I hear Oga tell Isiaka to bring the money. Isiaka then brings out lots of squeezed N1 000 notes from his back pocket. "Oya, your own," Isiaka says, turning to me with an open palm. I bring out the N5 000 I have on me and pull out N1 000. Isiaka however grabs my hands, and grabs all the money. As the police bus takes me back, the three men released with me stop by the ATM to withdraw the 'balance' for Isiaka's Oga.
While Isiaka and I wait inside the bus for these men, I finally remember to check my wristwatch. It is 4:01am!
•As told by Femi Owolabi.
Ayokunle Ayk Adeleye, Sagamu.
---
---
DISCLAIMER

: Opinion articles are solely the responsibility of the author and does not necessarily reflect the views of the publishers of ElombahNews!
---
Would you like to be receiving ALL ElombahNews links 'On The Go' on WhatsApp Or Telegram? If yes, join us here on WhatsApp or Telegram, or provide us your Telephone number via publisher@elombah.com or sms/inbox +2349050382526 and you are good to go!
---
DOWNLOAD ElombahNews mobile app here
---
Send eyewitness accounts/ reports/ articles  to publisher@elombah.com; follow us on twitter @ElombahNews; like our Facebook page ElombahNews 
---
For adverts & inquiries, call +447460770987, +2349050382526