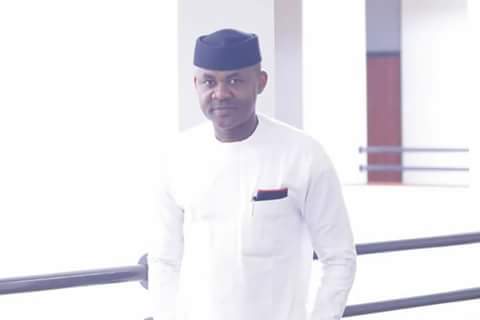 It has come to my notice that some elements from the people's Democratic Party (PDP) especially from Government house Umuahia true to their character are going about feeding the public lies and publishing falsehood as to the reasons why I resigned my membership of the party.
That is the reason why I have come to put to clarity and set the records straights to Abians so as to curb further deception and lies by those whose mission in governance is to see that Abia and Abians do not enjoy the dividends of democracy and their rights to good life is denied them while a few individuals sits atop our collective wealth meant for the development of the state and its citizenry.
Abians are aware of the fiasco of monumental magnitude and nightmare the PDP government we all campaigned and brought to office has turned to, causing Abians to live below poverty lines while a few live like kings off our collective wealth, all the promises we made to Abians during the election have all been broken, teachers are not being paid, civil servants now beg to feed themselves and their families, our roads have been rendered impassable while those who we made the care takers of our collective wealth and destiny are busy building mansions and riding on luxury SUV?s, our markets have been left to rot and decay while the government slam the traders with multiplicity of taxes without caring for their welfare, security has now become a luxury in Abia state for only the rich to enjoy, Abia has been turned to a state where payment of salaries to civil servants has become a privilege rather than a right, pensioners are now left to die unattended to and uncared for, while the state government diverts the money meant for salaries and pensions to private use.
Every conscientious effort meant to correct and redirect the impunity, bad governance, wickedness and lack of direction that has characterized the PDP led Abia state government has been met with stiff opposition by those who sees the government as their personal property and feeds fat on the suffering of the poor Abians.
No man of good conscience will sit back and watch his people go hungry and not react in the name of party loyalty, I cannot sit aloof and watch as kleptomaniacs who found themselves in government steal our collective destinies all because we belong to the same political party, I will rather be seen to be conspicuously uninvolved with those whose major business in governance is purely self-aggrandizement at the expense of the suffering masses, having to state categorically that my business in politics is development and my political ideology is running in different directions with what is being practiced in the party today in Abia.
Today, I Engineer Solomon Adaelu ceases to be a member of the People?s Democratic Party (PDP) for the following reasons as stated above and any further political moves will be made known to my friends, followers, fans and loyalists after due consideration and consultation with my constituents.
Sign: Hon. Solomon Adaelu, Member Representing Osisioma/Obingwa/Ugwunagbo federal
— 
Would you like to be receiving ALL Elombah.com news links 'On The Go' on WhatsApp Or Telegram?  If yes, please provide us your Telephone number via publisher@elombah.com or sms/inbox +2349050382526 and you are ready to go!
© Copyright 2017 www.elombah.com; unless otherwise indicated, all images are courtesy of Twitter; send eyewitness accounts/reports/articles to publisher@elombah.com; follow us on twitter @Elombah; like our Facebook page: Elombah.com; join us on WhatsApp HERE
For adverts & inquiries, call +447460770987, +2349050382526