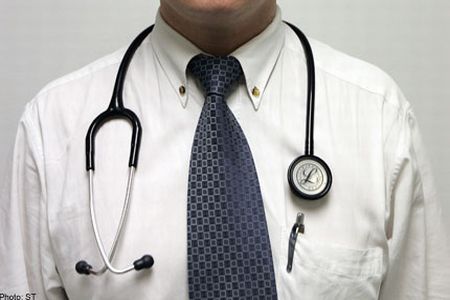 As a new Group Head, Conglomerates & Manufacturing Department in Corporate Banking in my erstwhile bank, I needed to hire sharp young people, train them and mentor them towards achieving the group's assigned targets.
With management's nod, I asked the head of Human Resources to mine the bank's database for job applicants and schedule ten of them who had scaled through the written tests phase, for interview.
I further conditioned my specifications to those below the age of 27 years with high power of numeracy evidenced by a distinction in Maths and also a degree in Natural Sciences.
Dr. Egodimkpa was the first to be ushered in for my interview.
"Sir, I applied to become a banker because I know I can deliver. Don't mind my course of study; I read Medicine to prove a point. 
"I only wanted to be addressed as a doctor. My father is an accountant and my mother an Economist working in a bank. 
"If you consider me suitable, I promise to do well as a banker…" and the candidate went on and on telling me why I should employ him.
At a point, the young job applicant paused when he noticed that I was lost in deep thought. The sharp cessation of his well-rehearsed appeal for the job brought me back to the interview room.
Of course, I recommended Dr. Egodimkpa for employment because I knew how mentally processed a medical doctor was. He couldn't have qualified as a doctor if he was not focused or intelligent. And I needed an intelligent staff.
The poor boy wouldn't know that he was what I wanted to be but couldn't.
How would he know what I suffered in my futile attempt to achieve his reality which was my truncated dream i.e. to become a medical doctor?
My dream to become a doctor was as old as my puberty.
As one entered the senior class in my secondary school, the brilliant science students would announce Medicine as their preferred course of study in the university while their counterparts in Arts would choose Law.
Even though some equally brilliant science students chose Pharmacy, Engineering or Architecture as courses of study, Medicine was still viewed as the star course just as Law was for Arts students.
I cannot forget a life changing discussion with Izunna, my friend under a Melina tree during recess at Nnewi High School. My life would have been better if that discussion never happened.
I was in the last term of class three enjoying Arts and planned to take Arts subjects in the School Certificate Exams but Izunna, my friend wouldn't hear of that.
My friend told me that Arts was for those who were not brilliant, those who could not solve mathematics and physics and those lazy novel readers who couldn't overcome their fears of Holderness & Lambert (Chemistry text book), Nelson & Parker (Physics textbook) and Stone & Cousins (Biology textbook).
My friend who was already in class four told me that he had chosen Science and that I should do same to be respected and regarded as intelligent.
And I wanted to be respected and be seen as intelligent hence I chose Sciences. Even some of my friends started calling me Dr. Anayo once I announced my choice of course.
That was how the dream of becoming a doctor began.
Izunna too planned to read Medicine but tried as he did, he couldn't make the Medicine's cut off mark at the University Matriculation Exam (UME) organized by JAMB for solid three years.
I was surprised when my friend came to my house one day to tell me that he had been persuaded to read Microbiology by more experienced old boys and that it would be easier for him to switch to Medicine after first year which he said was a way to circumvent the high cut-off point barrier to making Medicine through UME.
I was undeterred as I still made Medicine my first choice of course after failing to make it in my first trial.
But two of my friends wouldn't allow JAMB truncate their medical ambitions.
They immediately enrolled into traditional medical training after failing UME once.
They were qualified and commenced practice after two-year attachment with established dibias and some wireless directions from their ancestors.
Even though I knew some medicinal herbs, I preferred to become a medical doctor to a native doctor but JAMB would not understand.
When Izunna heard of my inability to make the Medicine list after the second attempt, he enjoined me to follow the same route as he did.
I had to apply for a change of course to Microbiology when I failed again to make the cut off mark for Medicine after the third attempt.
That was how I ended up in Microbiology department in the University of Nigeria, Nsukka (UNN).
Medicine and Pharmacy students and those of Microbiology and other courses in the Biological Sciences faculty did the same but two courses in the first year of study.
While in a crowded class, I would be gaping at my fellow students who achieved what I couldn't.