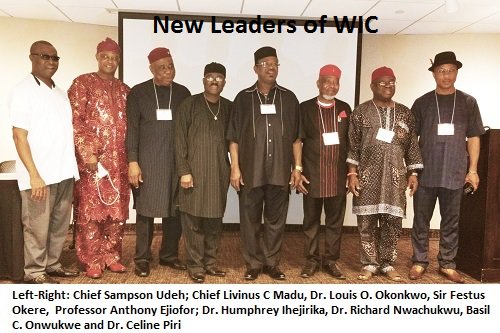 The United State-based Igbo organisation, World Igbo Congress (WIC) has elected new set of leaders after its 23rd Annual Convention held at the Crowne Plaza, Chicago O'hare Hotel & Conference Center, from August 31 to September 3, 2017. 
The convention was hosted by Umunna Association of Chicago and Environs with the theme "Ọganiru Ndi-Igbo".
According to the attached communique issued after the meeting, issued discussed are important and pertinent to Igbo well-being and survival in Nigeria.
At the end of the conference, the following personnels were selected to lead the Congress:
1. Professor Anthony Ejiofor, Chairman;
2. Chief Sampson Udeh, Recorder House of Delegates; 
3. Chief Livinus C Madu, Chief Whip; 
4. Dr. Louis O. Okonkwo, Treasurer; 
5. Sir Festus Okere, Vice Chairman; 
6. Dr. Humphrey Ihejirika, Financial Secretary; 
7. Dr. Richard Nwachukwu, Secretary-General and,
8. Basil C. Onwukwe, Public Relations Officer; 
9. Dr. Celine Piri, Assistant Secretary-General [not captured in the photo].
This newly elected executive board was sworn in by the legal adviser, Atty. Uzoma Ofodu and pledged to:
– Implement its practical and viable visionary plan articulated in a 7-point agenda to guide and direct World Igbo Congress to effectively navigate the troubled circumstances affecting it and the people since inception;
– Pursue steps to actionable solutions on major issues confronting our WIC and Ndi Igbo with renewed commitment to revamp WIC structures and configurations;
– Work will all and sundry and urge all stakeholders to stand up for Peace, Stability and Progress in order to address solutions in a new era of tranquility and, with all confidence and unison;
– Work with commitment to provide solutions to WIC and Diaspora Igbo issues for a new era of oneness of purpose in WIC.
The new Chairman, Anthony O. Ejiofor is a professor of Microbiology and Biotechnology at Tennessee State University, Nashville, TN, USA. 
He serves or has served in numerous strategic committees/councils at the institution. He is a member of numerous professional organizations and is well-published. 
He was the Executive Director of World Igbo Congress. 
Although the functions of the Executive Director were mitigated by pervading atmosphere of internal rancor and internecine crisis, Ejiofor was able to raise funds and established the first and only physical office of WIC in Nashville. 
He obtained a special consultative status in the UN-ECOSOC for WIC. Using the WIC-Women and Family Affairs Committee (WIC-WFAC) he organized several functions at the UN and promoted grassroots campaign in all Igbo states pursuant to the UN MDGs and is currently pursuing agenda for Igbo land development through the UN-SDGs. 
Dr. Ejiofor was instrumental to the first ever Leadership summit of the WIC in Enugu as well as the acquisition of the 50-acre prime land on which initial works on the establishment of a world class Regional Medical Center of Excellence in Alaigbo (Nsokpo Community Ogbaku) is progressing. 
Above all, Dr. Ejiofor developed functional structures for WIC that will obviate inertia at this time that rapid response to the challenging Igbo situation at home is required. 
Ejiofor calls on all to join hands to salvage Igbo land and asks for your vote to build on the structure already in place in order to restore peace, stability and progress. 
As the Chairman of World Igbo Congress, he hopes to establish cohesion and synergy with all Diaspora Igbo organizations, the Igbo leadership at home and the apex Socio-Cultural Organization of the Igbo, Ohanaeze Ndi Igbo, in this trying time of Igbo history. 
He is married to Nonye Ejiofor and together they have three children Chukwudalu, Sochima, and Tobenna.
Please surf THE WEBSITE to fully acquaint yourself with what WIC has been doing through the instrumentality of the indefatigable Professor Ejiofor.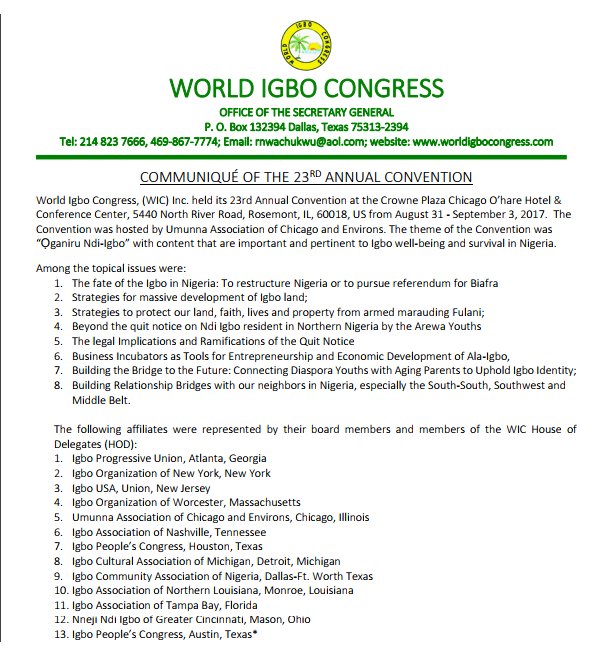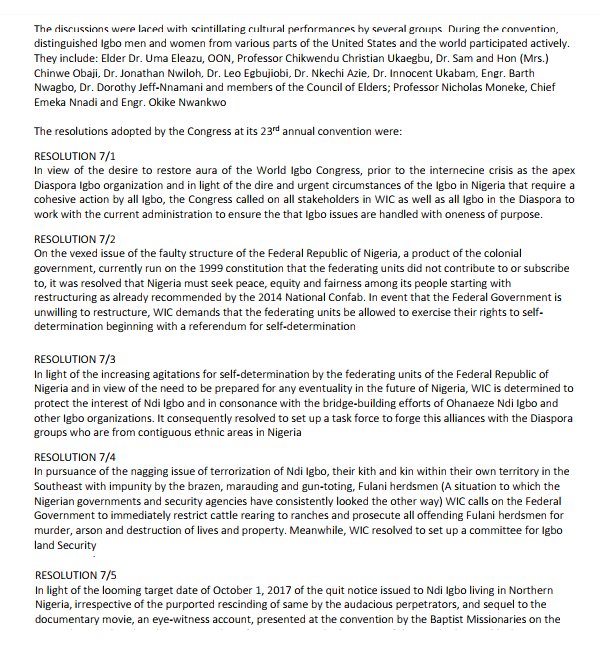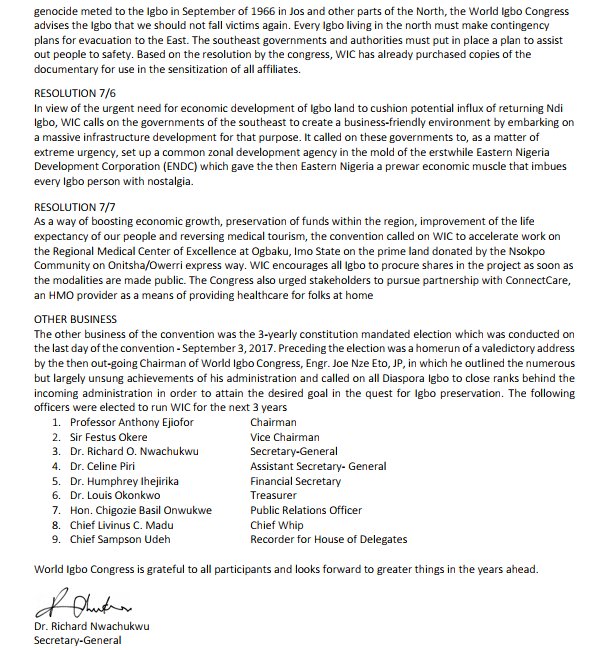 —
Would you like to be receiving ALL Elombah.com news links 'On The Go' on WhatsApp?  If yes, please provide us your WhatsApp number via publisher@elombah.com or sms/inbox +2349050382526 and you are ready to go!
© Copyright 2017 www.elombah.com; unless otherwise indicated, all images are courtesy of Twitter; send eyewitness accounts/reports/articles to publisher@elombah.com; follow us on twitter @Elombah; like our Facebook page: Elombah.com; join us on WhatsApp HERE
For adverts & inquiries, call +447460770987, +2349050382526